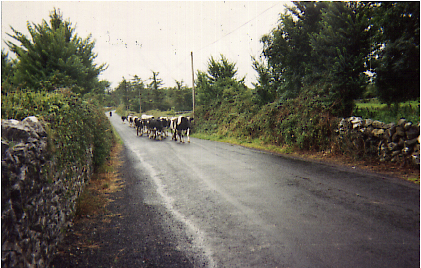 The road in front of where the old Joynt homestead used to stand in Ashfield Demesne,Beagh Parish, Galway. (Ord S. 128)
Ashfield Demesne
Griffiths Valuation
Robert French and Thomas Antisell, Lessors
Occupiers:
Thomas Antisell
Michael Shaughnessy
Patrick Harte
Martin Mannin
Martin Deely
Morgan Whelan
David Joynt
Michael M'Dermot
Thomas Loughnane
John Lally
Ferdinand Ford
From Topographical Dictionary of Ireland by Samuel Lewis; London, 1837:
BEAGH, or ST. ANNE'S, a parish, in the barony of Kiltartan, county of Galway, and province of Connaught, containing, with part of the post-town of Gort, 5343 inhabitants. This parish is situated on the confines of the county of Clare, and on the road from Galway and Loughrea to Ennis. A monastery of the third order of Franciscans was founded here about the year 1441, but by whom is unknown: in an inquisition of the 28th of Elizabeth it is denominated a cell or chapel, and its possessions appear to have consisted of half a quarter of land, with its appurtenances and tithes, which had been long under concealment. The parish comprises 12,331 statute acres, as applotted under the tithe act, and there is some bog; agriculture is improved, and there is good limestone. The seats are Loughcooter Castle, that of Viscount Gort; Cregg House, of F. Butler, Esq.; Ballygaagen of W. Butler, Esq.; Ashfield, of D. McNevin, Esq.; Castle Lodge, of C. Lopdell, Esq.; river View, of Mrs. Lopdell; Sallymount, of J. Butler, Esq.; Prospect, of Mrs. Nolan; Rhyndifin, of E. Blaquiere, Esq.; Rose Park, of __ Hugo, Esq.; and Rose Hill of A. Keeley, Esq. Large fairs for cattle, sheep and pigs are held at the village of Tobberindony, on July 12th, and September 20th. Is is a vicarage, in the diocese of Kilmacduagh, united with part of the rectory, and forming part of the union of Ardrahan; the remaining portion of the rectory is appropriate to the see. The tithes amount to 218.1.6 pounds of which 38.15.41/2 pounds is payable to the Ecclesiastical Commissioners, and 179.6.11/2 pounds to the incumbent. The R.C. parish is co-extensive with that of the Established Church: the chapel is a plain building but a new one is about to be erected on a site given by D. McNevin, Esq. There are six hedge schools in the parish, in which are about 340 children. Here are the remains of the ancient castles of Fidane and Arddameilivan; those of the former are in good preservation and very massive. At a place called the Punch-bowl, the Gurtnamackin river first disappears underground.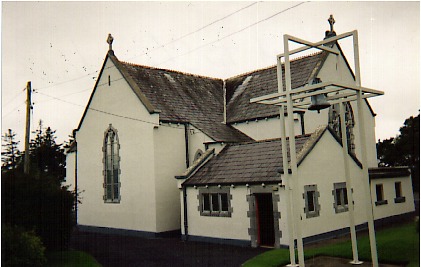 O'Donovans Name Books 1837-1839
Villages
Rec. Name: Sean Eaglais-old church
Orthography: Shananglish Village
Authority: Laurence Howarty, Ardamullivan
Situations: In the west of the townland of Ardnamulluvan, parish of Beagh, Barony of Kiltartan and Co. Galway
Des. Remarks: This village is on an old road leading from Ennis to Gort. It contains from 15-20 houses, a graveyard and the old and now Roman Catholic Chapels of Shanaglish. No fairs or markets held here. The new chapel can accommodate 600 persons. It is 4 miles southwest of Gort.
O' Donovans Name Books 1837-1839
Ashfield

Descriptive Remarks: Proprietor-Daniel McNevin Esq., No. 8 Middle Gardiner Street, Dublin. A portion of this townland is let to 17 occupying tenants-at-will at the yearly rent of 35/. per acre. County Cess-3/4 per acre. Tithe withheld by the tenantry. Size of farms from 1 to 4 acres. Soil-good. Usual crops-wheat, oats and potatoes. Prevailing names-Welsh and Fahy. Fuel scarce. The greater part of this townland occupied by the people, chiefly under plantations, & some more under grazing cattle. Ashfield House offices & orchard in this town-land. Superintended by Patrick Fahy, acting agent. Part of Lough Avock in which there is an island. Part of Coleman's Lough on the boundary of this townland. Perch, pike & eel in these loughs. Shananglish new & old Catholic chapels within boundary. New chapel not yet finished, when finished will accommodate 600. One fort here.
Authority- John Lally and Patrick Fahy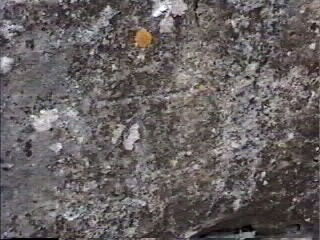 A new house exists on the land today and is no longer occupied by Nellys. All that is left of a Joynt existence there is the original "J" that someone put in the stone wall in front of the residence when the original house was built. (Picture 1998)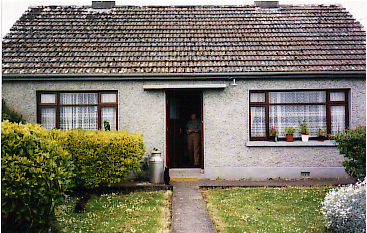 Home (photo-1998) of Peter Nelly (1905-1990) and wife, Margaret "Baby" Geoghan Nelly (1910-). My sister is at the door. On our visit in 1998 Margaret showed us around the town and, over tea and sherry, she told us the little she knew of our relatives. Her husband, Peter Nelly, was my second cousin once removed.
Clare Journal Jan 13 1851
Clare Assizes

David Joint, John Geogan, Margaret Geogan and Martin Joint were indicted for an assault and rescue of cattle seized for rent by Mr.Kerin, agent. Not guilty - it having been proved by a policeman who was present that the seizure was made before sunrise.
[Tithe law provided that private property could be taken if a person defaulted. It also provided that personal property in the form of livestock could be seized only between sunrise and sunset, and that animals behind locked doors could not be taken.]