Scott Co, Iowa USGenWeb Project
---
Charles Beiderbecke Biography

From "History of Davenport and Scott County" Vol. II by Harry E. Downer-S. J. Clarke Publishing Co. 1910 Chicago.

Surnames: Beiderbecke, Steibold, Fouberger.

Charles Beiderbecke, coming to America as a young man of seventeen years and his youthful training being that of a German lad, entered upon activities in the new world with no false ideas concerning the advantages here offered. He knew, however, that the path to success is open to all and that the fruits of labor are sure and certain. Therefore with the persistent energy he sought prosperity and in time came to be known as one of the leading merchants and financials of Davenport.
Born in Westpahlia, Germany, July 20, 1836, Charles Beiderbecke spent the first seventeen years of his life in his native country and there attended a university, studying for the ministry. He sailed for America in 1853. He did not tarry on the Atlantic coast but made his way to Indianapolis, Indiana, and for three years was employed in the post office.
He was sent by the government to Dubuque, Iowa, where he also held a position in the postoffice, but not liking that city he remained for only a short time and then removed to Davenport. Here he afterward entered into partnership and then removed to Davenport. Here he afterward entered into partnership relations as the senior member of the firm of Beiderbecke & Miller, wholesale grocers. They were located at the corner of Gaines and Second streets and afterward removed to Second street between Main and Harrison streets. In 1880 Mr. Beiderbecke erected a business block in which he continued to carry on his commercial interests throughout the remainder of his days. He built up a large and successful enterprise and was considered one of the leading business men of the city. He based his business principles and actions on the rules which govern strict and unswerving integrity and in the development of his business ever kept in mind the fact that satisfied patrons are the best a!
dvertisement. He held to high standards in the personnel of the house, in the character of goods carried and in the nature of the service rendered to the public, and as the years passed he enjoyed a constantly growing trade that for many years gave him a very substantial and gratifying income. Extending his efforts to other lines, he was recognized as one of the leading representatives of financial interests, becoming president of the Iowa national Bank, which he aided in organizing in 1890, continuing as chief executive officer until his death. He was also a director of the German Savings Bank.
Mr. Beiderbecke's executive ability was furthermore called into play in connection with social and municipal interests. He was a director of the Maennerchoir and also a member of the Turners Society. In matters relative to the public welfare he gave endorsement wherever he believed that the best interests of the city might be conserved. The attitude of the business man concerning any public question is taken as the standard of its worth, for the public recognizes that the sound judgment and keen discernment which must constitute salient features in successful business life would readily discriminate between the essential and nonessential in public matters. Therefore when Mr. Beiderbecke gave his support to any municipal movement his course was on which gained a large following therefor (sic). He did not belong to any church but attended the services at the Unitarian and in his life exemplified a broad humanitarian spirit.
On the 21st of April, 1860, Mr. Beiderbecke was united in marriage in Davenport to Miss Louise Piper, a daughter of August Piper, who came from Hamburg, Germany in 1856, establishing his home in this state and joining an Iowa regiment at the time of the Civil war, serving throughout the continuance of hostilities. After the war he returned to his city, where he engaged in business until his death on the 16th of December, 1889. Unto Mr. and Mrs. Beiderbecke were born eight children, but four died in infancy. The others are: Carl T.; Mrs. H. A. Steibold, who lives with her mother; Mrs. L. Fouberger; and Bismark H. Mr. Beiderbecke was devoted to his family and erected on of the finest homes in the city. There he passed away October 20, 1901, at the age of sixty-five years.
His hope of bettering his financial condition in the new world was more than realized, for here he found good opportunities and wisely used them to work his way upward. There was no esoteric phase in his entire career. He sought success not through speculation but in the legitimate lines of trade and through judicious investment, mindful at all times of his obligations to others and conforming his course to a high standard of commercial ethics.

Transcribed by Elaine Rathmann
---
Carl Thode Biography

From "History of Davenport and Scott County" Vol. II by Harry E. Downer-S. J. Clarke Publishing Co. 1910 Chicago.

Surnames: Thode, Goos, Langfeldt, Kruse, Goesch.

Carl Thode, president of the Henry Thode Company, wholesale and retail liquor dealers at 327 West Second street, is a native of Davenport, born September 13, 1865, his parents being Henry and Augusta (Goos) Thode. The father was a German who, upon leaving the fatherland, came almost directly to Davenport and took up his permanent residence here. He was a mechanic by trade and at first found employment in plow works. Later he engaged in the liquor business under the firm name of Langfeldt, Thode & Company and some seven years later purchased the interest of the other member of the firm. Some time previous to his death her retired from active life.
Carl Thode attended Davenport's excellent schools and then equipped himself for business by a supplementary course in Duncan's Commercial College. He then became connected with his father in business, this being about twenty-seven years ago, and was in charge at the time of the latter's death. In the ensuing fourteen years he has directed the affairs of the company and has met success. Previous to the death of the manager, Mr. Brady, he had only partial charge but since that time it has been entirely vested in his hands.
Mr. Thode wedded Miss Emiele Kruse, a daughter of John and Catherine (Goesch) Kruse, their marriage being celebrated July 1, 1886. Her father was a native of Germany, who resided in Davenport for fully half a century. He was a shoemaker by trade and lived to the age of seventy-nine years, his interment having taken place at Fairmont, January 2, 1902. he was survived by a family of nine children, of whom Mrs. Thode was the fifth. Mr. and Mrs. Thode have three children: Bessie, a graduate of Davenport's high school, now at home; Chauncey, who has also finished his education and is in business with his father; and Carl, who is still attending the public schools.
Mr. Thode, who is a man of genial manner and rejoices in the possession of hosts of friends, has numerous fraternal relations. He belongs to the Knights of Pythias, the Eagles, the Order of the Moose, the Owls, Germania, Claus Groth Gilde, the Traveling Men's Liberty Association, the I. C. M. A., the Davenport Boat Club and the Commercial Club, a list which will effectually testify to his popularity.

Transcribed by Elaine Rathmann
---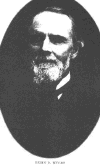 Dr. Rezin D. Myers Biography

From "History of Davenport and Scott County" Vol. II by Harry E. Downer-S. J. Clarke Publishing Co. 1910 Chicago.

Surnames: Myers, Maloy, Huffman, Smith.

Dr. Rezin D. Myers, deceased, enjoyed the distinction of having opened the first office for the practice of dentistry in the city of Davenport. He was born in Steubenville, Ohio, November 7, 1820, a son of John and Abigail (Maloy) Myers. The family was of German descent but had long been connected with the history of this country even in its earliest years. John Myers, who was a native of Jefferson county, Pennsylvania, was an officer in the war of 1812 under General Harrison and was a farmer and a miller by occupation. He passed away May 10, 1850.
Dr. Rezin D. Myers received his early education in the public schools of his native town, but the training which he later acquired and which made his practice of dentistry possible came as the result of his own ambition and labors. He had planned to become a physician, but a she pursued his work he became convinced that he was not suited for that profession and so devoted himself to dentistry. He did not have the means, however, to attend the schools he desired so he conceived the idea of becoming a journeyman dentist, riding or driving through the country, extracting teeth or performing other small and necessary operations among a people who in those early days had little opportunity to frequent the cities where the more skillful and better trained might attend to their wants. Dr. Myers rapidly rose in his chosen field, for he was a man who was ever on the alert to profit by experience, and as it often fell to his lot to be associated with those who were most proficient i!
n their work, he soon acquired the ability and the confidence equal if not superior to that which is learned through attending lectures in a schoolroom.
Dr. Myers came to Davenport in 1853, having covered the distance from Chicago by stage. Here he established his office and engaged in his profession, to which he devoted himself assiduously until about fifteen years before his death, with a success that was a gratifying return after the many hardships which only perseverance had overcome in the years he was trying to perfect himself in his art. When he retired he spent a number of years traveling, principally in Mexico for the benefit of his health. On the 30th of July, 1897, his long, earnest and eventful life was brought to a close.
In Pennsylvania, in 1858, Dr. Myers was married to Miss Adeline Huffman, a native of the Keystone state, and they had five children, only two of whom are living: William Lincoln, who is in the paper business in Missouri; and Mrs. Elizabeth Smith, of Bedford City, Virginia.
Mrs. Myers is a member of the Presbyterian church, whose services Dr. Myers attended throughout his life. He was, however, broad in his religious views, assisting to build many of the houses of worship in Davenport in early years, as his aid was ever given to all the measures or charities which were calculated to advance the social and moral well being of the community. He was a republican in his political affiliations and active in the public life of the city, especially shortly after his arrival here. Fraternally he belonged to the Independent Order of Odd Fellows, among whose members he made many friends, who, attracted by the noble character of the man, became endeared to him through close acquaintance with his high ideals and principles and mourned him sincerely as a good citizen when his life was over. Mrs. Myers, too, has many friends in the city, which has been her home for so many years. In fact, she has lived in the same house for more than half a century.

Transcribed by Elaine Rathmann
---
W. P. Bettendorf Biography

From "History of Davenport and Scott County" Vol. II by Harry E. Downer-S. J. Clarke Publishing Co. 1910 Chicago.

Surnames: Bettendorf, Reck, Wortman, Staby.

Through the inherent force of his own character, his strong determination and his close application to the duties that have devolved upon him, combined with the development of his native powers along the lines of invention, W. P. Bettendorf has won distinction and honors in his native land. He is today president of the Bettendorf Axle Company, controlling the most important industrial enterprise of Davenport, and the extent of his business has made him one of the best known men of the state. He was born in Mendota, Illinois, July 1, 1857, and is the eldest of four children, whose parents were M. and Catharine (Reck) Bettendorf, both of whom were natives of Germany. The father was a young man of eighteen years when he crossed the Atlantic to America an took up his abode in Mendota, Illinois, where he engaged in school teaching. Later he removed to Missouri, and, settling at Sedalia, there established a grocery store. He was afterward employed as a government clerk at Fort Leavenworth, Kansas, and is now living retired in Bettendorf, the town which is the home of the great enterprise that was established and is being conducted by his sons. O the family of four children, the only two living are W. P. and J. W., who are partners in the conduct of a business which in extent and magnitude has no equal in Davenport.
W. P. Bettendorf accompanied his parents on their removal to Missouri and to Kansas and in these states acquired the greater part of his education. He attended for a time the St. Mary's Mission School, which was an Indian school in the latter state. In 1870 he began providing for his own support as a messenger boy at Humboldt, Kansas, and about 1872 he accepted a clerkship in the hardware store of A. L. Shepard at Peru, Illinois. He filled that position for two years, after which he became an apprentice to the machinist's trade with the Peru Plow Company. This was more in accordance with the natural bent of his nature and he served his full term of indenture, becoming an expert workman. Later he left Peru and entered the employ of the Moline Plow Company, with which he remained for ten months, at the end of which time he accepted the position of foreman of the fitting department of the Parlin & Orendorff company at Canton, Illinois, manufacturers of plows and agricultural implements. Not only did he faithfully execute the tasks assigned him but unlike many workmen-and they are of the class who never progress-he gave active attention to every duty and thought out along original lines until as the result of experiment and research he invented, in 1878, the first power lift sulky plow. He was still in the employ of the Peru Plow Company at that time. His invention was adopted by most of the plow manufacturing plants. After leaving Canton, Illinois, in 1882, he returned to Peru to accept the superintendency of the establishment in which he had served his apprenticeship and while thus connected he invented the Bettendorf metal wheel, together with the necessary machinery for its manufacture. He then granted a shop right to the Peru Plow Company and as the metal wheel branch of the business soon assumed large proportions it was decided to change the name of the company to the Peru Plow & Wheel Company. This company, however, was slow to increase its capacity for the manufacture of metal wheels, the demand for which was constantly increasing, and Mr. Bettendorf therefore saw the necessity of looking around for other interests that would undertake the manufacture on a greater scale, keeping up with the market demand. He made the acquaintance of E. P. Lynch, who was president of the Eagle Manufacturing Company at Davenport, and they entered into negotiations which resulted in the establishment of a wheel manufacturing plant in this city. Therefore in 1886 the two brothers, W. P., and J. W. Bettendorf, came to Davenport and undertook the manufacture of metal wheels, in which particular line they continued with substantial success until 1899. In that year the Bettendorf Metal Wheel Company was incorporated and there was established an enterprise which is today the largest manufacturing concern in Davenport. Being of an inventive turn of mind, W. P. Bettendorf was constantly on the alert for opportunities to improve their output and to further the use of metal wheels, and steel construction for farm equipment. He therefore developed a steel gear for farm wagons in 1892 and the manufacture of this was at once undertaken. He severed his connection with the Bettendorf Metal Wheel Company and after three years' experimental work resigned and built necessary machinery for the manufacture of steel gears. This machinery was sold to the International Harvester Company in 1905 but the Davenport company still manufactures steel car trucks and steel underframes for cars as well as complete cars. The Bettendorf Axle Company was organized and incorporated January 1, 1895, with W. P. Bettendorf as the president. The history of the development of this enterprise constitutes a most important chapter in the annals of Davenport. From the beginning the business has continually grown and such is the success of the company that in the year 1909 the plant was increased in size threefold. Its equipment is of the most modern character and eight hundred employes are continually busy in turning out the output, which covers a wide range of iron manufacture, Mr. Bettendorf of this review has in large measure been a potent force in the development and success of the business. The two brothers, however, work together in utmost harmony, the talents of each being such as well qualify them for the conduct of the especial interests under their charge.
In January, 1895, their interests were incorporated under the name of the Bettendorf Axle Company, with J. W. Bettendorf as secretary. The business factory and main offices were then located on First street, between Ripley and Scott, and there, on the 28th of January, 1902, they suffered heavy losses through fire. In May of the same year a second disastrous fire occurred, destroying their plant, and as the business was constantly increasing it was decided to locate elsewhere. At length they determined to establish their plant at the town of Gilbert, now Bettendorf, about three miles east of Davenport. Here they are controlling the largest manufacturing establishment of the kind in the west and perhaps in the entire country, employment being given to eight hundred men. Recently they have made extensive additions to the plant through the erection of a foundry four hundred and thirty-six by four hundred and forty feet, each of its departments being larger than the average comp!
leted foundry. No provision for the economical handling of the immense volume of work done in the building-the avoidance of congestion and the delay that attends upon it-has been overlooked. The buildings are heated by steam and every regard has been paid to the comfort of the employes, for whom in a large separate building commodious lockers and lavatories have been established. There are tow regenerative open-hearth basic steel furnaces, having a capacity of twenty-five tons of heat, with an output daily of about one hundred tons of finished steel castings, which the company use in the steel car construction. They have also recently built an erection shop tow hundred and forty six by seven hundred feet, with a further extension fourteen hundred by two hundred and fifty-six feet, giving the building a total length of two thousand and one hundred feet. The entire amount of ground covered by the foundry and erection shop and the buildings for the storage of materials is forty!
-two hundred feet, or about four-fifths of a mile in length, along the Davenport, Rock Island & Northwestern tracks. Their grounds comprise two hundred forty-seven acres and there is nothing lacking in the equipment of this extensive plant, every modern device being employed that will facilitate the work or improve the character of the output. Something of the growth of the business is indicated in the fact that in 1909 the plant was increased to three times its original size. The seventy acres of ground that the company's shops and tracks occupy were originally laid out with a thought to the additions that have recently been made. Careful consideration was given to locating the buildings and the tracks laid to and from them so as to handle the material quickly and at the lowest cost. From the great piles of steel at the east of the shop locomotive cranes carry the material to the east end of the shop, where other traveling cranes reach down powerful magnets, take up the imm!
ense bars that would defy the lifting strength of many men, and carry them to various machines, until they issue from the west end of the shop in the Bettendorf steel car, underframes and trucks, which have been pronounced by railroad men generally as the finest cars of the kind ever produced.
In 1879 occurred the marriage of W. P. Bettendorf and Miss Mary Wortman. They became parents of two children, Etta and Henry, but the mother and both the children have passed away, Mrs. Bettendorf dying in august, 1901. In 1908 Mr. Bettendorf was again married, his second union being with Mrs. Elizabeth Staby. Mr. Bettendorf is a member of the Benevolent and Protective Order of Elks but the extent and importance of his business interests leaves him little leisure but the extent and importance of his business interests leaves him little leisure for activity in fraternal circles. He stands today as a splendid example of what may be accomplished when one has determination and energy. Opportunities that others have passed by heedlessly he has noted and improved. Modest and unostentatious in demeanor, he is nevertheless spoken of in terms of admiration and respect, for his life work has been so varied in its scope, so honorable in its purposes and so far reaching in its effects that it has become an integral part of the history of Davenport. In all of his business career he has held to high standards and should he at once retire from business the extent and importance of his activities thus far would leave the indelible impress of his individuality upon the history of the state.
Transcribed by Elaine Rathmann
---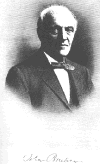 John Bruhn Biography

From "History of Davenport and Scott County" Vol. II by Harry E. Downer-S. J. Clarke Publishing Co. 1910 Chicago.

Surnames: Bruhn, Jansen, Hannemann, Hansen, Graham, Lohmann, Sellen, Eckhardt, Kardel.

A life of industry, crowned with success, enabled John Bruhn to spend hi last years in honorable retirement, enjoying the fruits of his former toil. He was indeed a self-made man and in his youth met many hardships and difficulties, but gradually he worked his way up until he won prosperity as the reward of his diligence. He was born at Lütjenburg, Holstein, Germany, in 1827, and in early life learned the butcher's trade. He was twenty-one years of age when in 1848 he joined the army, serving as a soldier throughout the Schleswig-Holstein war against Denmark. In 1852 he determined to come to America and left Hamburg in a sailing vessel, which reached New Orleans after a voyage of thirteen weeks. In company with several traveling companions he went up the Mississippi river to St. Louis, and as he had no money began looking for employment. He did not succeed in his search for work there and so went to Bunker Hill with a country-man, Louis Jansen, who was likewise a butcher by trade and who had a brother who was engaged in the tailoring business in Bunker Hill. The two young men eagerly accepted any work which they could secure. They worked on farms, on the railroad and also as bricklayers' helpers. Their wages were very small-not more than fifty cents a day. At the end of two weeks their fingers were so sore that they were compelled to give up work for a time. When they did somewhat recuperate, a prominent Scotchman of Bunker Hill, who was hostile to the resident Irish butcher, asked them if they would not establish a butcher shop there. They said they would like to, but did not have the necessary money, so the Scotchman supplied them with capital, a horse and wagon and equipped a small shop for them, so that the new business was begun. It was in June, 1853 that they opened their shop and they remained together until November, making quite a little money. In the latter month Mr. Jansen came to Davenport with four hundred dollars, while Mr. Bruhn remained at Bunker Hill until January, 1854. He then came to Davenport at the request of Mr. Jansen, who had secured employment with Christian Hannemann, an uncle of Louis and Charles Hansen. Mr. Bruhn and Mr. Jansen bought out the business of Mr. Hannemann, and were so successful in its conduct that in 1855 Mr. Jansen sailed for Germany with four thousand dollars.
Mr. Bruhn, then left alone, discontinued the butchering business and began buying hogs for Mr. Graham and was becoming prosperous when Mr. Graham failed. Mr. Bruhn, with two other men, had signed a note of twenty-eight thousand dollars for his employer and when Mr. Graham went into bankruptcy all of Mr. Bruhn's hard earned saving were taken to meet the note. In 1857 Mr. Jansen returned to America, for Germany was no longer to his liking. He had already expended half of his capital, but with the remainder he and Mr. Bruhn again established themselves in the butchering business with renewed zeal. They prospered and in 1858 went to California, but times were bad and they remained in the Golden state only about six months. On returning to Davenport, Mr. Bruhn became associated with two Americans in the live-stock business, shipping to Chicago, but the undertaking was unsuccessful and at the end of a year he had lost nearly all of his capital of five thousand dollars. This was in 1860.
In the fall of that year Mr. Bruhn mad the acquaintance of the young lady, Miss Maria Lohmann, who became his wife on the 19th of April, 1861. At that time he had no more money than was necessary to begin housekeeping. However, he had the friendship of a Mr. Sellen, who established Mr. Bruhn in the butchering business again. And hence again he started in that line with Diedrich Eckhardt as his partner. They soon had a liberal patronage and became prosperous. After about two years Mr. Bruhn disposed of his interest to Mr. Jansen and turned his attention to the live-stock business, making shipments to Chicago. In 1864 he purchased a house on Third street, near the Turner hall, and took up his abode there in May, 1865. Mr. and Mrs. Bruhn at that time had two children and four were added to the family while they maintained their residence on Third street. In 1874 they removed to the Bluff, where until 1896 they occupied a large dwelling. During that period their four daughters were married and the sons removed to the west.
The decade between 1880 and 1890 was devoted by Mr. Bruhn to dealing in farm lands, and purchasing a farm for himself on Mud creek, he there engaged in feeding stock during the winter seasons. In May he led the cattle out to pasture and in the following fall shipped them to Chicago. The farm, comprising two hundred acres, he sold to W. Kardel in 1893, and during the remainder of his life lived practically retired.
Mr. and Mrs. Bruhn traveled life's journey happily together for forty-six years, their mutual love and confidence increasing as time went by. Mr. Bruhn had reached his eightieth year when he was called to his final rest and a life of usefulness and activity was thus ended, when, in 1907 he passed away. He never had occasion to regret his determination to seek a home in the new world, for here he found the opportunities which were offered and in their improvement he worked his way upward. In all of his business affairs he was thoroughly reliable and in his social relations manifested the sterling qualities of the true gentleman.

Transcribed by Elaine Rathmann
---

Charles F. Kahler Biography

From "History of Davenport and Scott County" Vol. II by Harry E. Downer-S. J. Clarke Publishing Co. 1910 Chicago.

Surnames: Kahler, Hill, Hahn, Blunk, Suksdorf, Sederin, Klindt, Heintz.

Charles F. Kahler, a retired agriculturist residing in Davenport, has for the past ten years enjoyed the fruits of his former toil in well earned ease. He has some fine town property and is still in possession of considerable farming land, owning two quarter sections in Tama county, Iowa, and also a tract of one hundred and sixty acres in Sunnyside township, Larimer county, Colorado. His birth occurred in Holstein, Germany, on the 26th of July, 1838, his parents being Hans and Charlotta Kahler. The father, who was a laborer and also engaged in farming on a small scale, participated in the Schleswig-Holstein wars from 1848 until 1850. In 1855, in company with his wife and children, he embarked on a sailing vessel bound for American shores and landed at Galveston, Texas, after an ocean voyage of about eight weeks. They remained in Galveston, for only two days and then boarded a cattle ship for New Orleans, whence they took passage on a boat which brought them to Davenport on !
the 26th of June, 1855. Hans Kahler continued to reside in this city throughout the remainder of his life, passing away on the 1st of April, 1900, when he had attained the venerable age of ninety-four years. The period of his residence here covered almost forty-five years and he became well known and highly esteemed as a substantial and representative citizen. The demise of his wife had occurred soon after their arrival in Davenport. Their children were six in number, as follows: Henry, who is living retired in Davenport: Charles F., of this review; Dora, who is deceased; Mary, the wife of John Hill, of Davenport; Louisa, who has also passed away; and August, who makes his home in Ottumwa.
Charles F. Kahler, who obtained his education in the schools of the fatherland, was a youth of seventeen when he accompanied his parents on their emigration to the new world. After locating in this county he secured employment as a farm hand and thus worked for a number of years or until the time of his marriage in 1872. In that year he purchased an improved farm of one hundred and sixty acres in Blue Grass township and there carried on his agricultural interests energetically and successfully for a period of twenty-eight years. In 1900 he put aside the active work of the fields and took up his abode in Davenport, where he has since lived retired. As the years passed and he prospered in his undertakings, he invested his money in farming property and is still the owner of two tracts of one hundred and sixty each in Tama county, Iowa, as well as a quarter section of land in Larimer county, Colorado.
On the 20th of March, 1872, Mr. Kahler was united in marriage to Miss Catherine Hahn, who was born in Scott county, Iowa, on the 13th of February 1849, her parents being Wolfe and Margaret hah, natives of Holstein, Germany. They were married in that country and after emigrating to America took up their abode among the earliest settlers of Scott county, arriving here in 1846. Wolfe Hahn entered a tract of prairie land in Davenport township and devoted his time and energies to its cultivation and improvement for about forty years. On leaving the farm he came to Davenport, where he spent the remainder of his life in honorable retirement, passing away at the advanced age of eighty-three years. His wife was called to her final rest when seventy-six years of age. They were the parents of eight children, namely: Ida, the deceased wife of Hans Kruse; Mrs. Kahler; Minnie, who gave her hand in marriage to Theodore Blunk, Emma, the widow of Carl Suksdorf; Augusta, who married Paul Sederin; and Julia, who is the wife of George Klindt. Unto Mr. and Mrs. Kahler were born five children as follows: Robert, who lives on his father's farm in Colorado and who wedded Miss Tillie Heintz, by whom he has four children-Elsie, Blake, Oscar and Francis; Louis, who was drowned when sixteen years of age; Alphonso, who follows farming in Washington; Lillian, at home; and Harry, who is a resident of Philadelphia.
Politically Mr. Kahler is independent and while living on the farm held several township offices, including that of school director. He is a member of the German Pioneers Association of Scott county and also belongs to the German Shooting Society, the Turners and the Independent Order of Odd Fellows at Davenport. Having resided in Scott county for fifty-five years, he has an extensive circle of friends within its borders and has been an interested witness of its steady growth and development. He is now in the seventy-second year of his age and by reason of his well spent life fully merits the esteem and regard which are uniformly accorded him.
Transcribed by Elaine Rathmann
---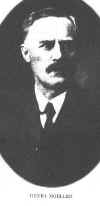 Louis and Henry Moeller Biography

From "History of Davenport and Scott County" Vol. II by Harry E. Downer-S. J. Clarke Publishing Co. 1910 Chicago.

Surnames: Moeller, Swenser, Jockheck, Boss, Chase, Illian.

In looking over the roll of those ambitious men who crossed the ocean and sought to make a new home for themselves in the state of Iowa in the early days of its history, may be discovered the name of Fritz Moeller, the father of Henry and the late Louis Moeller, who have for a number of years been prominent I the agricultural circles in Blue Grass township. He was born in the province of Mecklenberg, Germany, in 1828, and, having married Miss Dorothy Moeller, a native of the same locality, came to America in 1852. He settled first in New Orleans, where he remained two year as, engaged for the most part in the operation of a truck farm. In 1854 he ascended the Mississippi river to Scott county, Iowa, where he purchased eighty acres of land. In the course of years, however, he won success from his cultivation of the soil, he added to his farm until at his death it embraced two hundred and forty acres. He was twice married and by his first wife had six children, namely: one da!
ughter who died in infancy; Henry; Louis; Alvina, the wife of Carl Swenser, of South Dakota; Matilda, the wife of John Jockheck, of Sioux city, Iowa; and Willie, who died in infancy. The children by the second marriage were: Fredericka, the deceased wife of Henry Boss, of O'Brien county, Iowa; Minnie, the wife of Harvey Chase, of the same county; Sarah, who died in infancy; and Hulda, who died at the age of nine months.
Shortly after his parents settled upon their farm in this county, Henry Moeller was born, January 18, 1854, and his brother Louis' birth occurred at the same lace November 9, 1855. Both boys attended the district school and worked upon the homestead from the time they were able to handle the lighter of the farm implements and assume some of the responsibilities in the operation of the place. After the death of their parents, the brothers assumed the management of the farm their father had bought, although Henry Moeller also bought, in 1898, two hundred acres just west of the village of Blue Grass. He never took up his residence upon it, however, as the home place demanded all of his attention. Since the death of which have placed both the men among the prominent and successful agriculturists of Blue Grass township. The tract Mr. Moeller cultivates is well improved and is of a fertility which makes general farming profitable.
Henry Moeller has never married, but on the 15th of March, 1883, Louis Moeller was united in marriage to Miss Louisa Jockheck, a daughter of Ernst F. Jockheck, who is still living in Durant, Iowa. They became the parents of the following children: Emma, born January 15, 1884, is now the wife of William Illian, of Muscatine, Iowa; Ida, born July 9, 1886, died March 5, 1891, Wilma A., born August 27, 1895, and Louis J. H., born July 18, 1899, are all at home.
Henry and Louis Moeller were stanch adherents of the democratic party, and both played some part in the local affairs, for Louis Moeller was school director for four years, and his brother was road supervisor for six years. The latter holds stock in the Blue Grass Savings Bank. Indeed both men were representative of the best farming interests of Blue Grass township, which was deprived of one of its most worthy citizens when, on the 22d of November, 1907, Louis Moeller passed away. He was mourned not only by his family, but also by the many of his associates who through frequent intercourse with him had come to respect and honor him.

Transcribed by Elaine Rathmann
---
Mrs. Anna Christina Schmalz Biography

From "History of Davenport and Scott County" Vol. II by Harry E. Downer-S. J. Clarke Publishing Co. 1910 Chicago.

Surnames: Schmalz, Woolenhaupt.

Mrs. Anna Christina Schmalz, well known in Princeton, where she has many friends, was born in Aprote', Germany, November 11, 1831, and is, therefore, in her seventy-ninth year. Her parents were Johannas and Anna Christina Woolenhaupt, also natives of Germany, in which country the father followed the shoemaker's trade.
Mrs. Schmalz spent her girlhood days in her native country and was a young lady of eighteen years when she crossed the Atlantic to America in the spring of 1849, landing in New York. She then made her way to Davenport, where she lived for two years, after which she came to Princeton and since that time has lived in this section of the county. On the 26th of April, 1854, she gave her hand in marriage to Christian Schmalz, the wedding being celebrated in Newburgh, New York. They became the parents of nine children: Louise; Catherine and Gusta, twins; George, Otto, Emma, Andrew, Anna and Ella.
Mr. Schmalz was for thirty years engaged in merchandising in Princeton, being numbered among the leading and enterprising business men of the town, and on his retirement from commercial pursuits he removed to a farm in Princeton township. For a while he carried on the work of the fields but later retired and was enjoying a period of well earned rest up to the he time of his death, which occurred on the 5th of July, 1904.
Mr. Schmalz was a republican in his political views but never aspired to office, preferring to concentrate his energies upon his business affairs, in which he met with signal and well merited success. His life was ever upright and honorable and commanded the trust and confidence of his fellowmen. He held membership in the German Lutheran church, in which he was confirmed when a child. Throughout his life his actions were in harmony with his Christian professions and he ever attempted to follow the golden rule, doing unto others as he would have them do unto him. Mrs. Schmalz is now enjoying a well earned rest and makes her home with her daughter, Ella, who has charge of the home.
Transcribed by Elaine Rathmann
---
Reinholdt Sieg Biography

From "History of Davenport and Scott County" Vol. II by Harry E. Downer-S. J. Clarke Publishing Co. 1910 Chicago.

Surnames: Sieg, Williams, Robirds, Burleigh.

Reinholdt Sieg a splendid typed of the German citizen, manifesting in his life the salient and commendable characteristics of the Teutonic race, rose to a position of honor and prominence in connection with the industrial and financial interests of Davenport, the city profiting by his activity in business affairs and in those projects which have constituted the vital elements for growth and betterment along other than commercial lines. In the town of Magdeburg, Germany, occurred the birth of Reinholdt Sieg whose natal day was December 10, 1828. His parents were trades people in good circumstances, and liberal educational advantages were afforded him, his parents securing for him the opportunity of attending the pay schools of his native town. When his more specifically literary course was completed he sought and obtained employment as a salesman in a wholesale grocery store in Magdeburg, where he remained for seven years. While he was there living he was married the first time and soon afterward he determined to seek his fortune in the land of the free. Accordingly completing his arrangements for leaving his native country, he sailed for America in 1849 and spent two or three years in traveling over the United States, looking for a favorable location for business. His parents had died when he was about thirteen years of age, leaving him in comfortable circumstances. His wisdom and sound judgment not only in business but in other affairs was constantly demonstrated throughout his life record. After traveling for about two or three years his observations and inclination determined him to locate in Davenport, where he entered into partnership with a Mr. Meyer now of Chicago, and under the firm style of Sieg & Meyer they established a tobacco business, which they conducted along both wholesale and retail lines. They made substantial advance in this field of labor, prospering in their venture and Mr. Sieg continued in active connection therewith until 1866, when the business was disposed of. For two or three years thereafter Mr. Sieg was engaged in no active business, but indolence and idleness were utterly foreign to his nature and he could not content himself in an inactive life. He therefore made arrangements which again took him into the commercial field, forming a partnership with the late Alexander F. Williams in the iron business. They dealt in heavy hardware and were not long in developing a large and profitable trade, in which they continued without change until the death of Mr. Williams in 1887. Upon the death of Mr. Williams his interest in the business was withdrawn and Mr. Sieg organized a stock company with small shares in order that his employes might purchase stock and thus share in the profits of the enterprise. He became the president of the company and remained as its chief executive officer until his death. The business is still carried on under the name of the Sieg Iron Company by his heirs. It is a monument to the enterprise and labor of Mr. Sieg, who recognized and used opportunities which others passed by heedlessly and when one avenue of activity seemed closed, sought out other paths that would lead to the result which he wished to achieve. In his business his methods were such as would bear the closest investigation and scrutiny, being conducted with strict regard for the highest commercial ethics. Moreover, he was fair and just in his treatment of all employes, considering their rights and interests as well as his own and they entertained for him highest respect and regard. He considered that they had helped to earn for him the wealth that he acquired and he was therefore ever watchful of their interests. In addition to his interests in the iron trade he was a stockholder in the citizens Bank and also in the Iowa National Bank. He became one of the original stockholders in the Davenport canning factory and in the D. I. & D. Railroad. He was also one of the promoters and stockholders of the Masonic Temple and in various ways assisted in building up the city of his adoption.
Mr. Sieg was twice married. His first wife died April 19, 1883. They had no children of their own but reared an adopted daughter, Alice Camille, on whom they bestowed every care and attention of loving parents On the 24th of April, 1884, Mr. Sieg was again married, his second union being with Mrs. Victoria Robirds, nee Burleigh. They had two children, Minnie and Martha. The parents of Mrs. Sieg were southern people, her father being at one time a wealthy and prominent man of Louisiana. His earlier years were devoted to journalism as an editor and later he became a merchant. One of his sons, a brother of Mrs. Sieg, was captain in the Union army and served as aid-de-camp on the staff of General Rosecrans. Mrs. Sieg was first married in Pekin, Illinois, to George Robirds. There is one son of this marriage, George Lawrence Robirds, who pursued his education in the military academy to Orchard Lake, Michigan.
The death of Mr. Sieg occurred November 27, 1890, and his demise was greatly unexpected, the news therefore causing a great blow to his many friends. In his death Davenport lost one of its most valued citizens. In manner he was quiet, unostentatious and unassuming and cared not to figure before the public in any relation save that of a successful business man. He always refused office and political preferment, yet he was recognized as one of the worthiest citizens of the city. He was a man of very positive character and his position was never an equivocal one. On the contrary he stood fearlessly in defense of what he believed to be right and was a man of determination and unflinching integrity. No one ever questioned the honesty of his expressions or his actions. Moreover, he possessed a spirit of broad humanitarianism that prompted him to recognize the rights and interests of others and his employes, business associates and all with whom he came in contact in every relatio!
n of life knew him to be not only a good and just but also a generous man. Because of his innate modesty and retiring spirit he was thought by some to be reserved, but those who knew him best and came within the closer circle of his friendship entertained for him the highest regard. His best traits of character, however, where reserved for his own fireside and he cared nothing for the social allurements which would take him from his family. He stood for all that constitutes high and honorable manhood and at his death left a memory that is cherished by all who knew him.
Transcribed by Elaine Rathmann
---
William August Moeller

From "History of Davenport and Scott County" Vol. II by Harry E. Downer-S. J. Clarke Publishing Co. 1910 Chicago.

Surnames: Moeller, Fick, Ewaldt, Koch, Klindt, Wiese, Ottsen, Sorensen, Hinze, Rohlf.

Among the early German residents of Scott county was the Moeller family, of which William August Moeller was the eldest of eight children. He arrived in Davenport in his sixth year and form that time forward continued his residence in this county most of the time, devoting his energies to agricultural pursuits. He placed his reliance upon the safe, substantial qualities of indefatigable effort and unfaltering perseverance and as the year as passed his financial resources increased until the poor little German boy became a man of considerable wealth, possessing valuable property interests from which he annually derived a substantial income. It is a fact worthy of note that some of the strongest characteristics of the German race have been dominant factors in the substantial upbuilding and development of Davenport and Scott county. William August Moeller was among the number of German citizens who aided in the pioneer development of this section of the state. He was a little lad of five years of age at the time of his arrival here in 1848.
His birth had occurred at Propstei, Germany, November 16, 1842, his parents being Henry and Anna Moeller, who on crossing the Atlantic to the United States with their family landed at New Orleans in 1847. They made their way up the Mississippi river as far as St. Louis and remained there through the winter but in the spring of 1848 continued their journey to Davenport. The father worked as a laborer for about a year, after which he purchased forty acres of land in Davenport township at the usual government price of one dollar and a quarter per acre. Upon this claim he built a small house and at once began improving the fields, making his home there until 1855, when he sold that place ad bought one hundred an sixty acres of prairie land in Lincoln township at fifteen dollars per acre. He thereon erected a residence, fenced the land and made all the other improvements. Year by year he carefully tilled the soil and as his financial resources increased he extended the boundaries of his place from time to time until he was the owner of about four hundred acres when his death occurred, November 17, 1872. He had for eleven years survived his wife, who passed away July 23, 1861. They were the parents of eight children.
William August Moeller, the oldest of the family, acquired his education in the district schools of Scott county, was reared to the occupation of farming and throughout his entire life carried on general agricultural pursuits. When he started out on his own account he at first rented a part of his father's farm and when his close economy and unfailing and unfailing industry had brought him sufficient capital to enable him to become the owner of a farm he invested in two hundred and forty acres in Lincoln township. There he lived for a long number of years and the place is still known as the old homestead. He also bought tow hundred acres in Sheridan township and two farms near Donahue, Scott county, of one hundred and sixty acres each, but later sold those tracts to his sons. He also became the owner of a farm in Ida county, Iowa, where his daughter now lives. Year by year he prospered, making good use of his time and opportunities and in all of his farm work he was practic!
al, diligent, determined and therefore successful.
Mr. Moeller was married twice. He first wedded Miss Dora Fick, now deceased and they had five children. Anna, the eldest, is the wife of Herman Ewaldt and they had eight children: William, Henry, Herman, Rudolph, Arnold, Albert, Meta and Hugo. Henry Moeller married Meta Koch and they have three children: Roy, Henry and May. William married Anna Klindt and they have two children, Clarence and William. Meta is the wife of Gust Wiese and their five children are Howard, Ruth, Arthur, Stella and Erma. Laura, the youngest of the family, is the wife of William Ottsen and has one daughter, Lorena. For his second wife, Mr. Moeller chose Magdelina Sorensen, a daughter of Henry and Louise Sorensen, who came to Scott county in 1883 and are now living at Eldridge. Mrs. Moeller came to this county in 1881. She was born in Schleswig, Germany, April 28, 1862. She has five children: Rudolph, living in Lincoln township, married Amanda Hinze and has four children-Hertha, Elton and infant twins. Clara is the wife of Herman Rohlf, of Davenport, and they have two children, Wilbert and Bernice; Amanda, Arnold and Helen are at home.
During the years of his residence upon the farm Mr. Moeller served in a number of local offices, including that of township trustee and school director. He was ever loyal to the best interests of the community and cooperated in many measures for the public good. He held membership with the Turners at Eldridge and was a man of social, genial disposition who won friends wherever he went. He continued to reside upon the farm until November, 1906, when he removed to Davenport, where his death occurred on the 29th of March, 1907. His widow still owns the old home place of two hundred and forty acres in Lincoln township and the two hundred acre farm in Sheridan township, besides fine city property, having been left fairly comfortable financial circumstances by her husband. Mr. Moeller was a man of many good qualities and his life moreover illustrates the value of industry and close application in the attainment of success. As the architect of his own fortunes he builded wisely and well.
Transcribed by Elaine Rathmann
---
E. O. Ficke, M. D. Biography

From "History of Davenport and Scott County" Vol. II by Harry E. Downer-S. J. Clarke Publishing Co. 1910 Chicago.

Surnames: Ficke, Voeght.

One of the most prominent of the younger physicians of Davenport is Dr. E. O. Ficke, one of the city's native sons, whose birth occurred February 23, 1880. His father, H. E. Ficke, was born in Hamburg, Germany, but came to the United States when only a child. He grew to manhood in Iowa and here married Miss Louise Voeght, who was a native of Kiel, Germany, and like her husband came to the his country when a mere child. She is still living, but Mr. Ficke passed away August 19, 1908.
Dr. Ficke was the youngest of the three children born to his parents. He was reared in this city and began his education as a pupil at what is now known as Harrison, No. 8, school. Later, having completed all the requirements, he entered the College of Physicians and Surgeons at Chicago, Illinois, from which he received his medical degree and his license to practice his profession in 1903. He went straightway to Buffalo, Scott county, Iowa, where he remained about two years. In 1907 he was appointed physician for the county, being reappointed in 1908 and 1909 and holding the office to the present, for he has acquitted himself with honor and enjoys the confidence of those who have watched his administrations.
Dr. Ficke is a member of the Scott county, the Iowa State and the American Medical Associations and often attends their meetings. He is a young man of ambition, high ideals and skill in his chosen field, and the success which has crowned his previous efforts is an indication of what is in store for him. He has no reason to be discouraged with the present or despair of the future.

Transcribed by Elaine Rathmann
---
William Marlette Chamberlin Biography

From "History of Davenport and Scott County" Vol. II by Harry E. Downer-S. J. Clarke Publishing Co. 1910 Chicago.

Surnames: Chamberlin, Marlette, Galvin.

William Marlette Chamberlin, a lawyer who for twenty-four years has practiced at the Davenport bar, is today enjoying the success which comes as the result of a large clientage of an important character. He was born in Princeton, Scott county, Iowa, August 24, 1862, and comes of ancestry represented in America from colonial days. Both the paternal and maternal lines were represented in the patriot army in the Revolutionary war. The parents of our subject were Levi s. and Lucy A. (Marlette) Chamberlin, both of whom were natives of Pennsylvania. The father was born in Susquehanna county and in 1836 came 3with his parents to Scott county. His father, Josiah Chamberlin, first settled in Rock Island county, Illinois, and soon afterward removed to Pleasant Valley, where he engaged in farming. His was one of the pioneer homes of the district and the first church services in the county were held in his house. He sought to aid in the work of public progress in every possible way and was among those who laid broad and deep the foundation upon which the later prosperity and growth of the county were built. Levi S. Chamberlin was reared to farm life and for a number of years engaged in general agricultural pursuits but afterward tuned his attention to merchandising in LeClaire, Iowa, and was also a partial owner of a boatyard there. He likewise acted as pilot on the river for a few years and his varied activities brought him into close contact with the public life of the community. He died in 1885, at the age of sixty-three years, and was long survived by his wife, who passed away in May, 1909.
In their family were three children, including W. M. Chamberlin, who was educated in the public schools of Princeton, and afterward engaged in teaching in this county for three years. He regarded this merely as an initial step to further professional labor, however, for it was his ambition to become a member of the bar and to this end he devoted his leisure hours, while engaged in teaching, to the study of law. Later he entered the State University, from which he was graduated with the class of 1886. He was an earnest student and gained comprehensive knowledge of the principles of jurisprudence, so that when he entered upon active practice his equipment was unusually good. He has served for one term as county attorney, which has covered the extent of his service in political office, but he has always been active in politics since attaining his majority.
On the 5th of September, 1898, was celebrated the marriage of Mr. Chamberlin and Miss Helen C. Galvin, of Davenport, a daughter of Martin Galvin, one of the old residents of this city. They have one child, James Marlette, born August 11, 1899. Fraternally Mr. Chamberlin is connected with the Masons and the Benevolent and Protective Order of Elks, and his name is also on the membership roll of other societies. He is likewise identified with organized movements for the city's benefit, including the Business Men's Association and the Commercial Club.

Transcribed by Elaine Rathmann
---
Gustave A. Koester Biography

From "History of Davenport and Scott County" Vol. II by Harry E. Downer-S. J. Clarke Publishing Co. 1910 Chicago.

Surnames: Koester, Schulenberg, Beckler, Leach, Shaeffer, Reise, Osterhouse, Steinburg, Smith, Eskie, Krider, Anderson.

Perhaps no history in this volume better illustrates the power of industry and the force of character than does the record of Gustave A. Koester, who, thrown upon his own resources by the death of his parents when ten years of age, has since made his own way in the world and now, at the age of three score years and ten, is numbered among Davenport's men of affluence. His business methods, too, have never required nor sought disguise. There has been no esoteric phase in his career, for in the legitimate lines of trade and business activity he has won his success.
He was born in Germany on the 13th of November, 1838, and was a son of Ernest and Mary Koester, the former a prominent attorney of the fatherland, whence he sailed for America with his family in 1841. Landing at New Orleans, he proceeded up the Mississippi river to St. Louis where he engaged in the practice of law until 1848, when his life's labors were ended in death. He was the owner of a coal mine near the arsenal at St. Louis, called the Grove mine, and during the period of his residence in that city was a prominent and influential man there. He brought with him to America Messrs. Schulenberg and Beckler, who were then studying law under him in Germany and who afterward became prominent lumbermen of St. Louis. His wife died in 1847. In their family were eight children. Otto, who was appointed burgomaster of Soest, Germany, and later received appointment as chief burghmaster over all others from Emperor William, died in his native land in 1908. Fritz died in St. Louis in 1866. Julius is a practicing attorney of Carlinville, Illinois, now seventy-eight years of age. Mary died in 1907. Emily, of Cairo, Illinois, is the widow of Dr. Leach. Gustave A. is the next of the family. Mollie, who died in 1904, was the wife of George Schaeffer, a wholesale druggist of Fort Madison, Iowa. Elizabeth died in 1847.
The educational opportunities of Gustave A. Koester were somewhat limited owing to the early death of his parents, whereby he was left an orphan when not yet ten years of age. For a brief period he attended the German Institute conducted by General Siegel at St. Louis, but was a student there for only about a year and then for only about four half days each week. After his parents' death he and three other children of the family went to live with an uncle, Conrad Reise, at Muscatine, Iowa.
Soon afterward, however, Gustave A. Koester left his uncle's home and began selling papers, blacking boots and doing other such work as he could secure in order to provide a living. He came to Davenport in 1856 and was first employed as a bell boy in the hotels. He afterward worked in different restaurants and at different places, where he learned to cook, and when the civil war broke out he went to the front as cook for the Twelfth Missouri Infantry under Colonel Osterhouse. He also cooked for the Thirteenth Missouri Infantry. He had a brother-in-law, Captain Steinburg, with the Twelfth Missouri Infantry and Mr. Koester remained with that regiment until June, 1863, when he went south and witnessed eh battle of Helena, Arkansas.
In the fall of 1863 Mr. Koester returned to Davenport, where in connection with Claus Houck he engaged in the grain business, which they carried on for four years. They then dissolved partnership and became agents f the Moline Flour Mills, buying all the wheat used in their plant and also acting as sales agents for their flour. In 1867 Mr. Koester engaged in business for himself in the same line, dealing in all kinds of grain, potatoes, onions and other farm products. In this undertaking he prospered and as the years passed by he extended the scope of the business by establishing branch houses at Eldridge, Long Grove, Donahue, Mount Joy an Durant, Iowa, where he had the largest elevator on the Rock Island Railroad. The yeas chronicled his growing success, resulting from his earnest purpose, his close application, his undaunted energy and his reliable business methods.
At length Mr. Koester retired from that business in 1888 and was then employed by large real-estate companies to organize and conduct excursions, taking land seekers to new territory. He thus handled considerable land, selling as high as five thousand acres per day. In 1890 he purchased considerable land in Iowa and Minnesota from an English syndicate and became his own real-estate agent, handling his own property with headquarters and office in Davenport. He continued in business alone until 1896, when he admitted Charles Martin to a partnership. They were thus associated for four years, at the end of which time the business relation was dissolved, after which Mr. Koester sold out to his son Gustave, who conducted the business for about a year. Since then Mr. Koester has been selling lots in the Norwood addition to Davenport, which he owns, but has practically retired from active life to enjoy a rest which he truly earned and richly deserves.
Mr. Koester was married twice. He first wedded Miss Mary Smith. They had three children: Gustave A., who is married and lives in Davenport; Katie, the wife of Alex Eskie, of Colorado, by whom she has one son, Adolph; and Toney, of Davenport, who married Miss Maude Krider, and has two children. For his second wife Mr. Koester chose Kathryn Anderson.
Fraternally Mr. Koester is connected with the Elks lodge, No. 298, of Davenport, and is also a member of the Grand Army of the Republic and the Schuetzen Verein. He is one of the directors of the Union Savings Bank and his name is an honored one on commercial paper in this city. His business interests have been of an important character and, carefully managed, have brought to him substantial success, so that now in the evening of his life he is very comfortably situated financially.
Transcribed by Elaine Rathmann
---