Scott Co, Iowa USGenWeb Project
---
Madison J. Smith

From "History of Davenport and Scott County" Vol. II by Harry E. Downer-S.
J. Clarke Publishing Co. 1910 Chicago.

Surnames: Smith, Grandon, Brown, Johnson, Ritch.

Madison J. Smith, better known as Joe Smith, who in the eighty-second year
of his life is now living retired, is numbered among the oldest settlers of
this district, having arrived in Scott county in 1835, only three years
after the Black Hawk war, when the country was still inhabited by large
bands of Indians and the work of progress and improvement had but just
begun.
Born in Greene county, Pennsylvania, on the 24th June, 1827, he is a son of
Eli H. and Mary Ann (Grandon) Smith, natives of New Jersey and Greene
county, Pennsylvania, respectively. As early as 1835 the father left his
native state and, making his way down the Ohio river and up the Mississippi,
landed at Le Claire on the 5th of April, being among the earliest settlers
to take up their abode in this district. There were three hundred red men in
camp at the time of his arrival and it was necessary for the family to live
in an Indian tent until a cabin could be erected. He took up a farm of one
hundred and sixty acres, a portion of which is now in the possession of our
subject, and remained thereon until after the death of his wife, when he
went to live with his son in North English. He was a farmer by occupation
and also operated a stone quarry there for a number of years, her remains
being laid to rest in Le Claire. In their family were thirteen children,
namely: Matilda, Mahaly, Elizabeth, Susan, Cynthia, Jane, Madison J., Ira,
John, Nathan, Eli, Martin and Mary. Of this number only five still survive,
as follows: Madison J., of this review; Ira, residing in Scott county; Eli,
a resident of Iowa county; Martin, of Missouri; and Mary.
Madison J. Smith was a little lad of seven years when he came with his
parents to Iowa and here shared with the other members of the family the
privations and hardships incident to frontier life. As there were no schools
in the district at that time, what education he received was obtained by
reading and studying at night, while during the daytime he assisted in the
arduous and difficult work of developing and improving a new farm. He
continued to give his father the benefit of his aid until fifteen years of
age, when he began working of river boats and was thus engaged until the
outbreak of the Mexican war.
In the fall of 1846 Mr. Smith enlisted from Rock Island as a member of
Company F, Fourteenth Illinois Infantry, and was first stationed at
Jefferson Barracks for about three months. He then went to New Orleans and
thence to Mexico, where he participated in all of the battles from Buena
Vista to Vera Cruz. He was wounded several times and at the battle of
Contreras, when General LeBega was captured, he received a bullet shot
through his head. He was believed to be dead but later recovered and
rejoined his regiment. He was detailed as second lieutenant in charge of a
number of men engaged in clearing roads, etc. After a most creditable
military record he was honorably discharged in New Orleans in the fall of
1848.
He returned home and was employed on the river for a while. He then went to
DeKalb county, Illinois, where he invested in a small farm of thirty-two and
a half acres. He was there married to Miss Sarah Jane Brown, on the 28th of
December, 1849, who was a daughter of Eben Brown. After residing in that
county for about four years, Mr. Smith sold his property and removed to
Grundy county, Iowa, where he purchased one hundred and twenty acres of raw
land from the government, upon which he erected a dwelling and to the
development and cultivation of which he directed his energies, at the same
time engaged to some extent in the practice of medicine. He had previously
pursued a medical course at Richardson College, St. Charles, Illinois, under
the direction of Dr. Richards, from which institution he was graduated after
three years. He then entered the Eclectic Institute of Cincinnati, Ohio,
from which he was also graduated after taking a course in medicine and
surgery. He has his diploma from both institutions, which is rather
remarkable from the fact that he had enjoyed no educational advantages
whatever in his early life, all knowledge being gained through his own
efforts entirely.
After residing in Grundy county, Illinois, for about eight years Mr. Smith
sold his farm and went to Butler county, Iowa, where he invested in one
hundred and twenty-eight acres of partially improved land, upon which he
made his home for four years, dividing his time between the occupation of
farming and the practice of his profession. Later he again sold out and
removed to Iowa county, Iowa, where he purchased one hundred and forty acres
of land drawn from the active practice of medicine after leaving Iowa
county, and after his arrival in Scott county was engaged in operating
steamboats and rafts on the river for a number of years, continuing to make
his home in Le Claire to the present time.
In the fall of 1862, again actuated by a spirit of patriotism, Mr. Smith
enlisted at Dubuque, Iowa, as a soldier in the Civil war, becoming a private
in Company E, thirty-second Iowa Infantry. At Vicksburg he joined General
Grant, whose acquaintance he had made during the Mexican war and at whose
request he was selected for scout duty. Later he joined General Sherman and
rode ahead of his army in the capacity of a scout throughout the entire
march to the sea. His term of service covered about a year, after which he
returned to Scott county and has since lived retired upon his small farm in
Le Claire township. He is also the owner of valuable town property and as
the result of former years of toil is now in possession of a competency
which makes it possible for him to enjoy all of the comforts and many of the
luxuries of life without further recourse to labor.
As the years passed Mr. and Mrs. Smith became the parents of five children,
namely: Eben, residing in Iowa county; Anna, of Cherokee; William, of
Waterloo, Iowa; George, making his home in Redwood county, Minnesota; and
Elias, living in Muscatine. The wife and mother was called to her final rest
in Cherokee, Iowa, and on the 11th of August, 1903, he was again married,
his second union being with Miss Amy L. Johnson, a daughter of Sylvanus A.
Johnson, one of the early settlers of this county. Mrs. Smith was born on
the farm which is yet her home on the 25th of May, 1860. Her father was a
native of Vermont, where his birth occurred in 1826, and he came to Scott
county in 1858, here passing the remainder of his life. He was a farmer and
teamster by occupation. His wife was a native of Vincennes, Indiana, and
went to Illinois with her parents, Henry M. and Lucinda Smith, there, in
1848, giving her hand in marriage to Nelson Ritch, who at that time was the
owner of the farm upon which our subject now resides. Mr. Ritch passed away
in 1853, and in 1859 his widow became the wife of Sylvanus Johnson, whose
death occurred on the 5th of February, 1875. She survived until January 6,
1898, and was the mother of four children, namely: Amy L.: Caroline C.;
Minnie, who passed away in infancy; and Winnifred. Mrs. Smith has a
half-brother, Henry M. Ritch, and also a half-sister, Fannie Ritch. She has
passed her entire life on the farm which is now her home, Eli H. Smith, the
father of our subject, having entered it at an early date and later sold it
to John Williams, who in turn sold it to Nelson Ritch, her mother's first
husband.
In politics Mr. Smith gives stalwart support to the prohibition party and
has belonged to many temperance organizations, doing all in his power to
further the cause of temperance in the community, for he realizes that the
liquor traffic is one of the greatest evils against which the country has to
contend. His has been a life of continuous activity, in which has been
accorded due recognition of earnest labor, and now, in the evening of life,
he can look back upon a past that has been fraught with honest effort,
unswerving industry and untiring energy and has at all times been actuated
by principles that are in keeping with honorable and upright manhood. His
business methods have ever been such as to inspire confidence and trust in
his fellowmen and his personal characteristics have gained for him the
respect, esteem and good will of all with whom he has come in contact.

Transcribed by Elaine Rathmann

---


John Knox, M. D.

From "History of Davenport and Scott County" Vol. II by Harry E. Downer-S.
J. Clarke Publishing Co. 1910 Chicago.

Surnames: Knox, Culberston, Witherow.

Among the prominent professional men of Princeton who has ably sustained
the high reputation made by his father is Dr. John Knox. A native of
Princeton, his birth occurred September 10, 1852, being the first white
child born here. His parents were Dr. Samuel and Mary Elizabeth (Culberston)
Knox. The former was born near Gettysburg, Adams county, Pennsylvania,
October 16, 1824, a son of Samuel and Margaret (Witherow) Knox. He studied
medicine in the state of his birth, but in 1850 came to Princeton, Iowa,
where he handled stock and engaged in the real estate business until the
spring of 1853. Then he returned to Pennsylvania, entered the medical
department of the university and was graduated at the head of his class in
1856. Returning to Princeton, he opened an office, where he practiced until
his death July 17, 1887. He was one of the most prominent and progressive
men of the town, always being at the head of any movement calculated to
advance its interests, doing much both as a private citizen and as a man on
whom the public gaze rested, for he held all the town offices and, as he
owned eight hundred acres of land situated for the most part within its
boundaries, he laid out several residence districts. In 1857 he opened what
is known as the Knox addition to Princeton and then, having purchased five
acres of land, he platted Oak Ridge cemetery, which is the principal burying
ground in the locality. During the war he was the main support of many women
and children, whose husbands and fathers had fallen on the battlefield.
A slight dramatic interest is attached to the generosity Dr. Samuel Knox
showed toward the Presbyterian church. Not satisfied with having donated the
land and contributed funds toward the erection of the first church here, he
made a journey to New York city to see his uncle, the Rev. John Knox. During
the services at the latter's church one Sunday he rose up in the
congregation, explaining the circumstances that involved the little
religious community at Princeton, and from his listeners raised eight
hundred dollars, which he brought back home. That sum enabled them to
complete the erection of the church. During the early years of its existence
he also furnished the fuel, much of which Dr. John Knox chopped. In
recognition of his invaluable services and of his high character as a
Christian, Dr. Samuel Knox was elected an elder of the congregation, holding
the office throughout his life. He was also the main spirit in starting an
academy here. With several other men who had children to educate he raised
funds to employ a professor and conduct the school for a number of years.
While these incidents bear witness to the fact that he was always at the
head of movements for the social betterment of the town, others may be
adduced which show his interest in the development of the resources of this
locality. He was deeply concerned in a company which had as its purpose the
building of a gristmill. It, however, burned down after a few years'
operation and Dr. Knox lost about five thousand dollars on this investment.
Being on of the main promoters to induce the Sterling & Rock Island Railroad
to build a bridge across the river of Princeton, Dr. Knox lost the one
hundred and twenty acres of land which he had subscribed to the undertaking
when they failed to fulfill their promises. He was one of the most active
and prominent members of the Masonic lodge to which he belonged.
His wife, Mary Elizabeth Culberston, was born in Franklin county,
Pennsylvania, July 22, 1833. She was the daughter of Captain Culberston, and
is still living. Six children were born of her marriage: John, the subject
of this sketch; James, who died at the age of nine years; Mary E., the widow
of William Meadley; Helen, who died at the age of nine years; Mary E., the
widow of William Meadley; Helen, who died at the age of four and a half
year; Samuel, who died when he was forty years old; and Charles McLean, of
Butte, Montana.
Dr. John Knox has lived in Princeton the greater part of his life. He was a
pupil in the common schools and then attended the academy which his father
had started. Later he entered Monmouth College at Monmouth, Illinois, where
he pursued a scientific course for two years and then in the fall of 1874
was enrolled as a student at the University of Pennsylvania. He was
graduated from that institution March 12, 1877, holding a very high rank in
a class of one hundred and twenty-four. Thereupon he passed the examination
for the position of resident physician at the Philadelphia Hospital and
England, but did not assume his duties, however, as his father had met with
an accident, which compelled him to return to Iowa. Upon his arrival here he
engaged in the practice of his profession, endeavoring to fill his father's
place.
In a quarter of a century he has won a large patronage, and his patients
are unanimous in their expressions of admiration for his skill as a
physician and his high character as a man. Indeed, one has only to look over
the record of his life to obtain palpable evidence of this fact. For twelve
terms he was the people's choice as mayor of Princeton and was chairman and
treasurer of the republican party organization here for twelve years. His
land holdings embrace two hundred and fifty-six acres of fine arable land, a
part of which lies within the boundary of Princeton. Here he lives in a
handsome brick residence on Main street, which his father erected in 1856,
and also owns a large brick block in the business district.
A member of the Masonic lodge of Le Clair, Dr. Knox is prominent in its
work. He enjoys conditions that are a great improvement upon those with
which his father had to struggle. The latter was the first to own a top
buggy in the town, and on account of this possession acquired no little
notoriety. Conditions, too, were of a kind that enabled him to effect
changes and improvements that found increasing growth through the years.
Such opportunities no longer exist, owing in part to his work, but his son,
Dr. John Knox, is none the less efficient in performing the duties that come
to him. As a professional man there is no doubt as to his skill. As a
friend, adviser and counselor he has made his sympathy felt by all who in
time of need have come to him. This confidence of his fellowmen he regards
as the highest guerdon of his life.

Transcribed by Elaine Rathmann

---
M. H. Calderwood

From "History of Davenport and Scott County" Vol. II by Harry E. Downer-S.
J. Clarke Publishing Co. 1910 Chicago.

Surnames: Calderwood, Carson, Pelton, Burmeister, Bruhn

M. H. Calderwood, who has made his home at Davenport since 1907, was one of
the organizers of the Eldridge Savings Bank in 1899 and has acted as
president of the institution since 1901. His birth occurred at Eldridge,
Scott county, Iowa, on the 4th of may, 1863. His parents, Henry and Nancy A.
(Carson) Calderwood, were both natives of Ireland, the former having been
born in County Antrim, while the latter's birth occurred in County Down. The
father crossed the Atlantic to the United States in 1847 and four years
later took up his abode in Le Claire, Scott county, Iowa, when the district
was but sparsely settled and largely undeveloped. In 1852 he came to
Eldridge, this county, and, purchasing a tract of land, there followed
general agricultural pursuits throughout the remainder of his active
business career. Owing to his well directed industry and capable management
he prospered in his undertakings as the years went by and became widely
recognized as one of the successful and prominent citizens of his community.
In politics he was an unswerving republican but had no desire for the honors
and emoluments of office. His demise occurred in 1900 when he had attained
the ripe old age of eighty-one years. His wife was called to her final rest
in 1887 when sixty-four years of age. Their family numbered eight children,
only two of whom are now living, namely: M. H., of this review, who was the
seventh in order of birth; and Elizabeth, the wife of Charles W. Pelton.
M. H. Calderwood obtained his early education in the schools of Eldridge
and afterward spent one year in study at Valparaiso, Indiana. On putting
aside his text-books he turned his attention to the work of farming and
cultivated the old home place for many years or until 1907, when he took up
his abode in Davenport. The farm still remains in his possession, however.
In 1899 he became one of the organizers of the Eldridge Savings Bank and was
elected its vice president, while E. M. Burmeister was made president and H.
W. Bruhn, cashier. In 1901 Mr. Calderwood was elected president and H. W.
Bruhn, cashier. In 1901 Mr. Calderwood was elected president of the bank and
in this official connection has since ably directed and controlled the
affairs of the institution.
In 1887 Mr. Calderwood was united in marriage to Miss Sarah Brownlie, a
native of Long Grove, who is one of the oldest residents of this county.
Unto Mr. and Mrs. Calderwood were born six children, a follows: Ethel;
Blanche; Almeda; Errett Dwight, deceased; Helen; and Ruth. The wife and
mother died February 5, 1898, and was buried at Long Grove.
Mr. Calderwood was honored by election to the state legislature on the
republican ticket and capably served as a member of the twenty-ninth,
thirtieth and thirty-first general assemblies. The cause of education has
ever found in him a stalwart champion and for many years he acted as
chairman of the school board of Sheridan township. Fraternally he is
identified with the Knights of Pythias ad the Masonic order, belonging to
Trinity Lodge, No. 208, the Chapter, the Commandery and the Shrine. Both he
and his wife have spent their entire lives in this county and are well known
and highly esteemed within its borders, having ever displayed those sterling
traits of character which in every land and clime awaken admiration and
regard.

Transcribed by Elaine Rathmann
---
John L. Mason

From "History of Davenport and Scott County" Vol. II by Harry E. Downer-S.
J. Clarke Publishing Co. 1910 Chicago.

Surnames: Mason, Sweet, Coleman, Evans, Keith, Grilk.

John L. Mason, resourceful, alert and enterprising, is now president of the
Mason Carriage Works, an enterprise established in 1868. Its development
along well defined lines of trade and commerce has made it the largest
establishment of this character in Davenport and it stands as a visible
evidence of the intelligently directed energy of its founder and promoter.
Mr. Mason was born in Bowmanville, Ontario, Canada, on the 14th of July,
1844, and is a son of Samuel and Elizabeth (Sweet) Mason. The father was a
native of England but left that country in the year 1833, and in company
with his parents and four brothers emigrated to Canada West, now Ontario,
Canada. When old enough he learned the saddlery and harness trade and for
many years conducted one of the largest business enterprises in that line in
Canada.
John L. Mason first started to work at his father's business, but later on
learned the trade of carriage trimming and devoted himself to that
undertaking. Desiring to perfect himself in his chosen work, in March, 1864,
he went to New York and worked for some of the best firms in that city and
in Philadelphia. In November, 1865, he came to Iowa, going first to
Marshalltown, whence in January, 1866, he removed to Davenport, where in
January, 1868, he joined Valentine Evans in organizing the firm of Mason and
Evans. The business was conducted under that partnership relation until
October, 1881, when Mr. Evans returned east, and Mr. Mason continued the
business under the present name of the Mason Carriage Works. In January,
1897, the firm was incorporated under the laws of Iowa and his two sons,
Charles F. and Webster L., became members of the company and have in a large
measure contributed to its success, the three comprising the only
stockholders of the corporation. In 1902, seeing the trend of the vehicle
business, the firm added automobiles to their line, being among the very
earliest carriage firms to recognize that industry, and have built up a very
successful automobile department in connection with their well established
carriage works. This department is in charge of the son, Charles F. Mason,
who is vice president of the company, while the office and carriage
departments are in charge of the younger son, W. L. Mason, who is treasurer
of the company.
On the 26th of September, 1866, Mr. Mason was married to Miss Maria M.
Coleman, of Toronto, Canada, a daughter of Mr. and Mrs. James Coleman, who
were natives of the Isle of Wight, England. To them were born three sons and
one daughter: Wellesly R., Charles F., Webster L. and Marion E. One son,
Wellesly R., died in infancy. Charles F. married Clara Evans and they have
one daughter, Elizabeth R. Webster L. wedded Mabel Keith and they have two
sons, John K. and Webster K., and a daughter, Marion K., while another
daughter, Ariel K., died in February 1909. The daughter, Marion E. Mason is
the wife of Charles Grilk, Jr. Throughout his business career John L. Mason
has held to the high standard of commercial integrity and, moreover, has
been accorded that success which ever crowns persistent and intelligently
directed effort. In matters of citizenship he is also progressive and, while
he has never sought to figure in any public light aside from business
relations, he has, nevertheless, given the weight of his influence on the
side of those measures which tend to advance the material, intellectual,
social, political and moral interests of the city.

Transcribed by Elaine Rathmann


---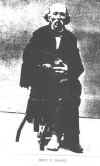 John T. Mason

From "History of Davenport and Scott County" Vol. II by Harry E. Downer-S.
J. Clarke Publishing Co. 1910 Chicago.

Surnames: Mason, Stelling, Stevens.

One of the large tracts of land in Winfield township which was settled at
an early day when the land was in its primitive condition and settlers were
just beginning to learn its value, is the Mason homestead, which is now
operated by the widow and children of John T. Mason. It was his place of
residence for almost half a century. He was born in 1798 and in 1841 came to
Iowa from Maryland, driving an ox-team across the mountains and prairies and
locating in the city of Davenport, which was then little more than a hamlet,
remaining there for three years. In 1844 he settled in Winfield township, on
the 20th of November of that year buying eighty acres of land. Upon this he
erected a rude cabin of logs, broke the land and engaged in farming the next
spring. Three years later, as he gained large returns from his labor, he
brought one hundred acres more and at the end of five years added another
hundred. He continued to increase his land holdings until at the time of his
death he owned five hundred and twenty acres of as fine land as might be
obtained in Scott county. The many improvements with which his place was
adorned and the well cultivated fields were the results of his own labors,
showing that he was a thorough, painstaking and efficient farmer. He
followed general farming and also engaged extensively in stock raising, to
both of which industries he devoted all of his life. In early days he
marketed his produce in Davenport. A successful man, he was also honorable
and upright, a citizen who commanded the highest respect of his fellowmen.
Mr. Mason was twice married. In 1819 he wedded Miss Ruth Stelling and they
had eight children. After her death, in 1861, he wedded Miss Sarah Stevens.
She was a daughter of John Stevens, who had come from Butler county,
Pennsylvania, in 1854. He located in Winfield township, where he engaged in
farming and also followed his trade of a blacksmith. Of the second marriage
there were ten children born, nine of whom are living.
In 1819 Mr. Mason cast his first vote and in the years 1824, 1828, and 1832
he cast his ballot for Andrew Jackson. He was always active in public
affairs and took part in many meetings of the early days in Scott county. He
died June 12, 1888 and since his demise his widow and children have carried
on the farm with a success that bespeaks the excellent business ability and
good management of Mrs. Mason.

Transcribed by Elaine Rathmann


---
Mrs. Mary A. Brownlee

From "History of Davenport and Scott County" Vol. II by Harry E. Downer-S.
J. Clarke Publishing Co. 1910 Chicago.

Surnames: Brownlee, Roberts, Evans, Jay, Helbig, Jackson, Harn.

Mrs. Mary A. Brownlee has been a resident of Davenport for fifty-five
years. She is the widow of John C. Brownlee, who was born in Canada, near
Port Sarnia, May 13, 1846. His life record covered the intervening years to
the 11th of January, 1909, when he passed away, honored and respected by all
who knew him. His parents were William and Christina Brownlee, who came from
Canada to Scott county when their son, John C., was but three years of age.
They settled at Long Grove and the father purchased a tract of land near
age. They settled at Long Grove and the father purchased a tract of land
near there, comprising one hundred and sixty acres. Upon that place the
family took up their abode and their labors constituted the source of
development and improvement for the farm. Their first home was a log cabin,
which they occupied for a number of years. It was an arduous task to develop
new land but with characteristic energy the work was undertaken and William
Brownlee continued to carefully till the soil until his death, which
occurred when his son, John C., was about eight years of age. He left a
widow and eight children, the eldest being then a lad of but eleven years.
John C. Brownlee spent the greater part of his life in the district of Long
Grove. He attended the district schools and also a business college at
Davenport and throughout his entire life engaged in farming. When his
careful expenditure and industry had brought him sufficient capital to
enable him to purchase a farm he made investment in land and with
characteristic energy began to develop it. The results of his labors were
soon seen in carefully cultivated fields and as the years passed on he
gathered rich and bounteous harvests as the reward of his diligence and
care. He continued to reside upon his original farm until about 1874, when
he purchased a farm near Davenport and made it his home for about eight
years. He then retired and removed to the city, spending his remaining days
in the enjoyment of well earned rest. In addition to his farming interests
Mr. Brownlee was one of the stockholders of the Davenport Live Stock Company
of New Mexico and acted as manager of that company for two years.
On the 7th of December, 1865, Mr. Brownlee was married to Miss Mary A.
Roberts, a native of Derbyshire, England, and a daughter of Edward and Jane
Roberts, who came to the United States with their family in 1855. They
landed at Davenport about the 15th of May, and the father, who was a
gardener, rented land and later purchased a small farm near Davenport,
whereon he engaged in the cultivation of fruit and vegetables. He lived a
life of unremitting diligence and industry and passed away in 1887, at the
age of seventy-two years. His wife survived until 1890 and passed away at
the age of seventy-seven. Unto Mr. and Mrs. Brownlee were born six children:
Eva M, the wife of Dr. Samuel J. Evans, of Davenport, by whom she has four
children, J. La Verne, Harold J., Leroy J. and Dorothy Edna; MinnieB., the
wife of Dr. William Jay, of Nashua, Iowa, by whom she ahs one child, Marion;
John E., who married Adelia Helbig, by whom he has two children, Helen and
John R., and was at one time for a number of years connected with the
Citizens Trust & Savings Bank of Davenport but is now cashier of the
Bettendorf Bank at Bettendorf; Jennie B., the wife of Otis C. Jackson, of
Chicago, Illinois; Luella, the wife of Frank N. Harn, of St. Louis; and Cora
E., who died at the age of ten years.
The death of the husband and father occurred January 11, 1909. He had in
many ways proven himself a good citizen and faithful friend and a devoted
husband and father. While living on the farm he served as justice of the
peace for a number of years and was also constable and school director. He
held membership in the Christian church and took active part in the church
work. He served as one of the church deacons and did everything in his power
to promote the growth and extend the influence of the denomination with
which he was connected. His life was at all times in harmony with its
principles and he lived so that at his death none had aught for him but good
words and kindly remembrance.

Transcribed by Elaine Rathmann

---
H. C. Gast

From "History of Davenport and Scott County" Vol. II by Harry E. Downer-S.
J. Clarke Publishing Co. 1910 Chicago.

Surnames: Gast, Lamer, Moyer

When one rides over Scott county and sees its splendidly developed farms,
its fine country homes, its substantial and attractive churches and schools,
it seems hardly possible that it is within the memory of a living man when
much of this section was still in possession of the government, having not
yet been claimed by the white race for purposes of civilization. Yet, when
H. C. Gast came over to this county in 1851 he took up land from the
government, becoming the owner of one hundred and sixty acres in Princeton
township, which he still owns. He relates many interesting incidents of the
early days and his memory forms a connecting link between the primitive past
and the progressive present. For more than four score years he has traveled
life's journey, his birth having occurred in Pennsylvania, June 21, 1829.
His parents were George and Susan (Lamer) Gast. The former, a native of
Center county, Pennsylvania, was a farmer by occupation and spent his last
days in Iowa, his death occurring in Le Claire.
H. C. Gast acquired his education in the district schools of Pennsylvania,
mastering those branches of learning which are regarded as an indispensable
element to success in business. During the periods of vacation he worked in
the fields and throughout his entire life has carried on the occupation of
farming. He was only twenty-two years of age when he came to Scott county,
arriving here in 1851. He believed that he would have better business
opportunities in the new and growing west and therefore he came to Iowa,
hoping to improve his financial condition thereby. He found that land was to
be had practically for the asking and he took up one hundred and sixty acres
of government land in Princeton township, for which he paid the usual price
of a dollar and a quarter per acre. Resolutely and diligently he undertook
the task of transforming the wild prairie into productive fields and in the
course of years made this a good farm, upon which he still resides.
In 1852 Mr. Gast was united in marriage to Miss Sarah Moyer, a daughter of
John and Polly Moyer, both of whom were residents of Le Claire township,
Scott county, at the time of their demise. Unto Mr. and Mrs. Gast have been
born nine children: George C., a resident of Clinton, Iowa; Henry Milton, of
Butler township, this county; William Lloyd, of Princeton; Allie, who died
at the age of two years; John, how died in infancy; Fidelia, who died when a
small child; Mary, who died at the age of eleven years; one who died in
infancy; and Sarah Almeda Florence, with whom Mr. Gast now makes his home.
In his political views Mr. Gast is an earnest republican and was twice
elected justice of the peace but never served in that capacity, refusing to
qualify. As he preferred to devote his time to his private interests rather
than to public office. He joined the Lutheran church when sixteen years of
age and has since been one of its faithful members loyal to its teachings
and generous in its support. His record is that of a man who has ever been
true and loyal to duty and through the eighty-one years of his life he has
fully earned the high regard and esteem which are uniformly given him.

Transcribed by Elaine Rathmann

---

Jesse L. Armil

From "History of Davenport and Scott County" Vol. II by Harry E. Downer-S.
J. Clarke Publishing Co. 1910 Chicago.

Surnames: Armil, Septer, Barrett, Sivertsen, Mundt, McGee, Smiley.

Jesse L. Armil, a retired farmer making his home in Davenport, while not a
native of this state, came here in early childhood before the land in this
locality had been touched by the plow or harrow. Surrounded by the primitive
conditions of pioneer life, he witnessed the great and beneficial change
which the unremitting toil of man gradually brought about.
Mr. Armil was born on the 6th of May, 1833, in Westmoreland county,
Pennsylvania, and was only four years of age when brought to Iowa by his
parents, John and Susan (Septer) Armil, reaching Scott county on the 19th of
April, 1837. The family settled in the vicinity of what is now Davenport and
there the father engaged in agricultural pursuits with good success, so that
he was able to invest heavily in the rich farm land of this locality. His
wife died in 1855, but he survived until 1887.
Jesse L. Armil received his education in the Catholic schools of this
county and during his boyhood assisted his father in the work of the home
farm. Later he engaged in dairying on a farm adjoining that of his father.
He retired in 1905, removing to No. 628 West Locust street, which is a part
of the farm entered by his father.
On the 19th of January, 1857, Mr. Armil was united in marriage to Miss
Joanna Barrett, a daughter of John and Eliza Barrett, and to them have been
born three children. Frances is now the widow of C. F. Sivertsen, a son of
Christian Sivertsen. He was a millwright by trade and was twenty-two years
of age when he came to Scott county, making his home here until his death,
which occurred on the 16th of December, 1906. Robert married Miss Anna Mundt
and to them have been born seven children: Bessie, Ed, Earl, Ruth, Paul,
Robert and Marie. He belongs to both the Elks and the Masonic fraternities
and is now engaged in the dairy business, having succeeded his father, who
for twenty-four years devoted considerable attention to that industry.
Warner married Miss Frances McGee, by whom he had two children, Jesse and
Frances. After her death he married Miss Cora Smiley. He, too, is a mason
and also belongs to the Improved Order of Red Men.
Mr. Armil still owns a good farm of seventy acres, now within the city
limits of Davenport. He is an honored member of the Pioneers Society of
Scott county and is held in high regard by all who know him. He has always
been interested in public affairs and has done his part toward the
development of the city.

Transcribed by Elaine Rathmann

---
Mrs. Elizabeth Adelaide James

From "History of Davenport and Scott County" Vol. II by Harry E. Downer-S.
J. Clarke Publishing Co. 1910 Chicago.

Surnames: James, Penry, Beers, Davis, Barnes, Young, Pope Chambers.

In Le Claire, where she has long made her home, Mrs. James receives the
respect and veneration which should ever be accorded those who have passed
to a far point on life's journey. She was born in Richmond, Indiana, April
14, 1836, and was a daughter of Peter and Mary (Penry) Beers. Her father was
a native of Columbus, Ohio, and her mother was born in the same city in
1815. They were both numbered among the pioneer residents of that state.
After leaving Ohio they removed to Indiana and for some years were residents
of Richmond. In 1843, however, they came to Iowa, settling at Burlington
when this state was yet under territorial rule. There the father continued
to reside throughout the remainder of his life. He was a farmer by
occupation and devoted many years to the work of tilling the soil. His
political allegiance was given to the republican party and he staunchly
advocated its principles but never sought office as a reward for party
fealty and allegiance. He died at Grand River, Iowa, in 1895, passing away
at a ripe old age.
His daughter, Mrs. James, was only seven years of age at the time of the
removal of the family form Indiana to Iowa, and in the schools of Burlington
she acquired her education. She was capably trained in the work of the
household, so that she was well qualified to take charge of a home of her
own at the time of her marriage to Thomas James, the wedding being
celebrated on the 14th of February, 1854. He was a son of John and Mary
(Davis) James, both of whom were natives of Wales, where they were born and
reared. The birth in his youthful days he was brought to the United States.
At the time of the Mexican war he espoused the cause of his adopted country
and became a member of the Missouri Artillery Lighthorse Battalion, under
Major Clark. He served throughout the entire contest and was honorably
discharge in 1848. Turning his attention to farming, he followed that
pursuit for many years and in his business affairs was careful and
systematic, bringing his fields under a high state of cultivation and
gathering good crops as the reward of his earnest labors. In all of his
business dealings, too, he was thoroughly reliable, being never known to
take advantage of the necessities of his fellowmen in any trade transaction.
Three children were born unto Mr. and Mrs. James. The eldest, Florence, who
was born in 1855, became the wife of Joseph Barnes, a resident of Le Claire
and they have two children: Raymond Barnes, now living in Des Moines, Iowa;
and Rolla Barnes, of Le Claire, who married Miss Bessie Young and has two
children, Jewel and Raymond Barnes. Fannie James, born March 29, 1958, is
the wife of Frank Pope and they have on child, Albertine Pope. Albertine
James, they youngest of the family, born March 6, 1865, is the wife of
Milton Chambers and they have two children, Lotta J. and May Elizabeth
Chambers, who are residing with their parents in Le Claire.
The death of Mr. James occurred January 6, 1908, when he had reached the
very venerable age of eighty-two years. He came of English ancestry and
adhered to the religious faith of the family, holding membership in the
Episcopal church. His life was at all times guided by its principles and its
teachings, and he was ever an upright, honorable man. In his political views
he was a democrat but never aspired to office, preferring to concentrate his
energies upon his business affairs that he might provide a comfortable
living for his family, keeping them from want and supplying them with those
opportunities and advantages which go to make life worth living. Wherever
known he was honored and esteemed and most of all where he was best known.
Transcribed by Elaine Rathmann
---
Charles Lerchen

From "History of Davenport and Scott County" Vol. II by Harry E. Downer-S.
J. Clarke Publishing Co. 1910 Chicago.

Surnames: Lerchen, Weyman, Schlagel, Meyer.

Charles Lerchen, deceased, who throughout life enjoyed a large acquaintance
among the German residents of Davenport and was beloved and esteemed
wherever he was known, by reason of a cheerful disposition and an honorable
life, was born in Saxony, Germany, but lived in this country from early
manhood, for like many another son of the fatherland, he was attracted to
the United States by the story of the opportunities for advancement said to
lie here, although at the time he crossed the Atlantic, before the end of
the first half of the last century, the full possibilities of this land were
unknown. For a time after coming to America Mr. Lerchen lived in Wheeling,
West Virginia, and then removed to Detroit, Michigan, which, because of its
position upon the lake, was farther developed then the country surrounding
it.
In 1850 he came to Davenport and on Second street opened a leather and
harness shop, for he had learned the saddler's trade in the land of his
birth. He was thus engaged in business for some time and then, when the
fever of western colonization began to take possession of men's minds, he
went to Denver, Colorado, being not only one of the early settlers of that
city but also one of the first to embark in mercantile pursuits there.
Toward the close of his life, however, he returned to Davenport, where he
resided until his death. A man of great energy and activity, he found the
opportunities he sought in this country, was successful beyond the average,
and also enjoyed the respect of the many persons who, coming in contact with
him in business or socially, found him a man who was ever genial, courteous
and honorable.
While he was living in Germany Mr. Lerchen wedded Miss Amelia Weyman, who
passed from this life May 21, 1900, at the advanced age of eighty two years.
Like her husband she was well and favorably known in the German circles of
Davenport, particularly in those societies that aim to keep alive the spirit
of the fatherland. In the Turnverein and Mannerchor she is remembered with
especial fondness for the many acts of kindness and unselfishness she
performed and for the flags she made for the societies. Eleven children were
born to Mr. and Mrs. Lerchen, six of whom are still living: Carl, Mrs.
Amelia Schlagel, William, Mrs. Lydia Meyer, Fannie and Pauline. Miss Fannie
Lerchen, like her parents, brothers and sisters, is well known in Davenport,
which has been her home for so many years and where she has a circle of
friends almost coextensive with that of her acquaintances. Mr. Lerchen was
numbered among the older and more prosperous of the German settlers of this
county, and the honorable and upright record of his life is one of which
fellow citizens and his children may well be proud.

Transcribed by Elaine Rathmann
---
Gus P. Lamp

From "History of Davenport and Scott County" Vol. II by Harry E. Downer-S.
J. Clarke Publishing Co. 1910 Chicago.

Surnames: Lamp, Paustian, Schlapkohl, Harbeck, Magnus.

Gus P. Lamp, a well known resident of Hickory Grove township, is located on
a desirable farm on section 32, whose associations must be doubly dear to
him for it was here that he was born January 28, 1872. His parents were
Claus H. and Katherine (Lamp) Lamp, who lived for a number of years in
Davenport. The subject of this sketch is one of a family of five children:
Matilda, the wife of August Paustian, a resident of Hickory Grove township;
Caroline, who married George Schlapkohl and lives in New Liberty township;
and Clara, who married Otto Harbeck and lives in Davenport.
Gus P. Lamp received his education in the public schools and spent four
winters in attendance at Davenport's Business College, his training not
being limited to his own particular vocation. Since he began his active
business career his life has been devoted to agricultural pursuits, the
scene of his activities being, as previously mentioned, the old home farm of
three hundred and twenty acres on sections 32 and 29, Hickory Grove
township. In addition to general farming he devotes a part of his attention
to stock raising with profitable result. He is also a stockholder in the
Galloway Manufacturing Company of Waterloo, Iowa. An evidence of his very
provident nature is the fact that he carries ten thousand dollars life
insurance.
Mr. Lamp was married July 2, 1896, to Miss Regina Magnus, of Davenport. She
was born June 2, 1873, and is a daughter of Emil Magnus. They have three
children: Louis C. E., Dewey D. and Malinda Luella.
Mr. Lamp is very happy in his fraternal relations, holding membership in
two organizations in Walcott, lodge No. 1644 of the Eagles, and camp No.
7749 of the Modern Woodmen of America. Although comparatively a young man,
he has accumulated a very considerable amount of wealth. Prudent,
resourceful, a keen business man and yet a just neighbor, he is held in high
regard by all who know him.
Transcribed by Elaine Rathmann
---

W. I. Quinn

From "History of Davenport and Scott County" Vol. II by Harry E. Downer-S.
J. Clarke Publishing Co. 1910 Chicago.

Surnames: Quinn, Glines, Clapp, Ruch.

Among the honored pioneer residents of Scott county none is more worthy of
mention than W. I. Quinn, a retired farmer, now living in Long Grove, where
he owns two lots in addition to eighty acres of land in Winfield township.
He was born in Preble county, Ohio, November 12, 1831, a son of Joseph C. C.
and Julia Ann (Glines) Quinn. The father was one of the pioneers of Preble
county and was there engaged in farming until 1838, when he decided to come
west to Iowa. The little party that crossed the plains from Ohio in a
covered wagon consisted of our subject's paternal grandparents, their two
sons, and their respective families. The aged grandfather said he wanted to
see the country as they went along and as he could not do this when in the
wagon, he walked for a large part of the way. He was not able to complete
the journey, however, but died when they were in central Illinois. The rest
of the party proceeded on their way, reaching Scott county, Iowa October 14,
1838, after having spent four weeks on the journey. They located about
sixteen miles north of Davenport, on the Wapsipinicon, where the two
brothers took up claims of eighty acres each, although they could not
register them as the land had not them been opened up for settlement.
However, they put up two log cabins, wherein the families began
housekeeping, and when the land came into market they entered their claims
and also forty acres each of timber. Joseph C. C. Quinn lived upon his
eighty-acre farm for about five years and then traded it for on of forty
acres farther down the river, which was partly cleared and had a log house
upon it, living there for seven years. The family suffered terribly from the
ague, the men being compelled to cease work two months every year on account
of it. After they had lived near the river for about twelve years and W. I.
Quinn felt he was old enough to do for himself, he told his father he would
not spend another winter on the Wapsie. Therefore they decided to give up
the farm, and, selling the forty acres in 1850 for three hundred dollars,
the father located on the prairie about two and a half miles south of Long
Grove, where he entered one hundred and sixty acres of land. There he built
a frame house, a log stable and a few sheds covered with hay, hauling the
timber for these, and for his fences and other purposes from the banks of
the Wapsie. Mr. Quinn lived there until 1867, when he sold eighty acres to
Jacob Eldredge, his son, W. I., having bought the other eighty acres in
1852, and removed to Linn Grove, whence after several years he went to
Jasper county, Iowa, which remained his home until his death.
W. I. Quinn was about seven years of age when the family removed from Ohio
to Iowa, and all the hard experiences of pioneer days are well remembered by
him. He attended school first in a little log shanty on the banks of the
Wapsipinicon. The seats were made of slabs, which were about a quarter of a
log, placed on legs which were stuck in bored holes, while the only desk
consisted of a board about sixteen inches wide resting on pins driven into
the wall, at which the pupils took turns in writing. At that time there was
no public fund for school purposes, so each family boarded the teacher for a
time and paid a certain sum for each of its members who attended. Such was
the first school at Long Grove. Indians were then seen in large numbers, but
they were peaceable and caused no trouble.
Mr. Quinn remained with his father, assisting in the arduous work of
preparing the prairie land for cultivation, until 1852, when he started to
farm on his own account. He bought from his father eighty acres, which he
broke up and fenced, and on which, during the summer of 1854 he built a
house, into which he and his wife removed in August of that year. It
remained his home for almost half a century and is still standing, a
reminder to the present generation of the labors and courage of those
pioneers, who made possible the comforts of today. For forty-nine years MR.
Quinn was busily occupied in farming, and the generous returns he obtained
for his labor and diligence made possible his retirement. He has a pleasant
home in Long Grove, and here he enjoys the comforts which is meant should
surround a man in the evening of his life.
It was on the 12th of November, 1853, that Mr. Quinn was married to Miss
Mary M. Calder, a daughter of John and Elsie Calder, who came to Scott
county in 1852, and they became the parents of four children, as follows:
Abbie A., who married Selah Clapp of Long Grove; Elsie Ann, the wife of
Conrad Ruch, of Adair county, Iowa; Benjamin F., of Cedar Rapids, Iowa; and
William D., who died at he age of five. Mrs. Quinn was born in Meigs county,
Ohio, July 10, 1834, and was called to her final rest April 14, 1908, her
remains being buried at Long Grove. She was a faithful member of the
Christian church, and her long life was one of courage and helpfulness, that
made her death keenly felt by all who shared her friendship.
Mr. Quinn joined the Christian church in 1850 and has always been loyal to
its teachings, rearing his children in that faith. His life has ever been
honorable and upright, and his many excellent qualities have made him one of
the respected citizens of the community. He has now reached the age of
seventy-eight years and received the veneration and esteem which should ever
be accorded to one who has reached the evening of life, and whose record in
the years that have come and gone is in harmony with upright principles.

Transcribed by Elaine Rathmann

---
James F. Lardner

From "History of Davenport and Scott County" Vol. II by Harry E. Downer-S.
J. Clarke Publishing Co. 1910 Chicago.

Surnames: Lardner, Lee, Gilmore.

James F. Lardner, who eighteen years ago, joined his forces with the
business interests of Davenport, Rock island and Moline, was born in
Chicago, Illinois, February 22, 1862, his parents being William and
Elizabeth (Lee) Lardner. The father was also a native of Chicago. On the
mother's side Mr. Lardner is descended form a family who settled in Chicago
during the first years of its history and played no small part in its early
life.
James F. Lardner received his education in Chicago, attending first a
private school and later entering St. Ignatius College, where he took a
classical course. Before coming to Davenport he was in the employ of the
Western Electric Company and the Central Union Telephone company in that
city, having through his own efforts risen high in the esteem of these
concerns. Indeed, so pronounced had been his success that he attracted the
interest of the founders of the Tri-City Railway Company, who prevailed upon
him to come to Davenport. Since his arrival here he has been made general
manager, which position he held until May 1, 1908. While he has given the
best of his energies perhaps to that concern, he is also interested in the
Peoples Light company, the Water Power Company and in the Rock Island Plow
company, of which latter company he is at present general manager. He is a
man of high principles and business acumen and these qualities united with a
capacity for industry have been the foundation on which his success has been
built.
On the 8th of March, 1886, was celebrated the marriage of Mr. Lardner and
Miss Nora A. Gilmore and unto them have been born six children: Mabel and
Amy, who are graduates of Trinity; Rosemary, who is still a pupil at
Trinity; James, Jr., who is a student at St. Ambrose college; Dorothy, who
is attending St. Katherine's Academy and Gilmore, who is attending the
public school. Although not a native of Davenport Mr. Lardner has won the
respect of those who have come in contact with him in a business way or
socially.

Transcribed by Elaine Rathmann

---
D. B. Morehouse

From "History of Davenport and Scott County" Vol. II by Harry E. Downer-S.
J. Clarke Publishing Co. 1910 Chicago.

Surnames: Morehouse, Dow, Moorhead, Richardson.

D. B. Morehouse, who has been the deputy collector of internal revenue in
Davenport for the past eight years, was born in Galena, Illinois, August 15,
1844. He is descended from a family that came originally from the east in
the early days of the settlement of the middle west, for his paternal
grandparents, Jonathan and Loretta Morehouse, settled upon a farm about
fifteen miles from the city of Davenport some time in the early years of the
last century. Their son, D. B. Morehouse, the father of our subject, became
a captain upon a steamboat, plying upon the Mississippi river and devoting
himself to water navigation until 1858, when he retired and took up his
residence permanently in Galena. There his death occurred on a farm in 1869.
In his young manhood he wedded Miss Charlotte E. Dow and of their union was
born D. B. Morehouse.
D. B. Morehouse spent the period of his youth in a number of cities so that
the education which fitted him for the responsibilities of life was obtained
in various places. He attended first the public schools of his birthplace,
later going to St. Louis and then to a country institution of popular
instruction. After a couple of terms spent in Jubilee College, he returned
to Galena, where his education was completed. He then took up farming upon
the Morehouse homestead, being engaged in the cultivation of the soil for
some time. When the president issued his call for troops to defend the
Union, he enlisted in company I, Nineteenth Illinois Volunteer Infantry,
being in the western department of the army. As a member of the Army of the
Cumberland he participated in some of the more serious encounters between
the opposing forces and was under Generals Sherman, Rosecrans and Thomas
until the culmination of the struggle. When he was finally discharged he
returned to farming in Iowa, to which he devoted his energies for a
considerable time. Later he removed to Davenport. After being engaged in
several different lines of business, he entered the employ of the
government, being a member of the postoffice department here for about
thirteen years, and on leaving that position he was appointed deputy
collector of internal revenue. The duties of this office have been his for
the last eight years.
In Scott county, June 12, 1873, Mr. Morehouse was united in marriage to
Miss Ella M. Moorhead, who was called from this life in September, 1901.
Three children had been born to the couple. Henry D. married Miss Anna
Richardson and is now a resident of Chicago, Illinois. Le Grand E. makes his
home in Davenport and is a cashier with the Bettendorf Company. Stella is
also a resident of this city, making her home with her father. Mr. Morehouse
belongs to the G. A. R. Post, No. I, and served as commander in 1866.
Fraternally he enjoys pleasant relations with the Masons and the local lodge
of the Royal Arcanum.

Transcribed by Elaine Rathmann