Joynt Family Chronicles
A One-Name Study
JOYNT/JOINT Military Records
---
If you can help me place the families of these persons or have additional info to share I would appreciate it.
Thanks, Cathy JOYNT Labath
---
SEE ROYAL IRISH CONSTABULARY RECORDS- JOYNT
---
The pay list for the the N.M.Militia shows in 1793 Thomas Joynt and
Christopher Joynt, and again in 1798 when the regiment was reformed, all
members of this regiment were selected for their height not under 5
feet10 inches, smartness, activity and general good conduct, the
regiment was formed in Castlebar in 1793 and disbanded the second time
in Ballina ,the records for the Militia are at the Kew military centre
London and I believe at the Castlebar library.

----- Original Message -----
---
From FTM cd 133-Kent and Queen's County Maryland-Revolutionary War Patriots 1775-1783
JOYANT, John. Private in 1st Company, 27th Battalion, 1775/1778, Kent County Militia.
JOYANT, Stephen. Private in 1st Company, 27th Battalion, 1775/1778, Kent County Militia.
---
1861-1865 Massassachusetts
Section: Volume V Page 579 of MA Civil War Soldiers and Sailors 1861-1865

JOINT, William--Priv. -- Res. Lynn; 33; shoemaker; enl. and must. July 5, 1861; disch for disability, Apr 22, 1863 , Fort Albany, VA.
JOINT, William Unit: 1st Regiment Heavy Artillery
---
From:
Pennsylvania Index of Civil War Soldiers,
1861-1866 Roll 37
Jones, James S. -- Kellar, Jo
JOYNT, James 2d K - 61I Muster Roll
Enrolled: 3-8-65 At Alleghany City
M.I. 3-10-65 as Pvt. At Pittsburgh PA.
M.O. 6-28-65
Discharged
Age at enrollment: 44 Complexion: Light
Height: 5'9" Eyes: Hazel
Hair, Dark Occupation, Striker
Residence: Washington County
Remarks: Pvt to Corp. (date unknown)

JOYNT, Lewis C- 6C 2-762
Enrolled: 9-4-61 At: Phila. Pa.
M.I. 9-4-61 as Pvt. at Phila, Pa.
Age at enrollment: 30
Remarks: Not Accounted For (Bates).

Submitted by Rob Ho
---
Schenectady Soldiers in the Civil War: One hundred seventy-seventh Infantry
This information has been taken from Chapter XXV, pp. 402-403 of Schenectady
County, New York: Its History to the Close of the Nineteenth Century, by
Austin A. Yates (1902)
Joynt, William
Enlisted October, 1862; served through.
http://www.scpl.org/history/resources/yates/reg177.html

The 177th was formerly the Tenth Regiment New York State National Guard of
the city of Albany. It was enlisted in October, 1862, for nine months, but
it was called upon to serve within two weeks of the year, and those who did
serve, served most heroically. They were ordered at once to the Department
of the Gulf and served in Louisiana. While at Baton Rouge the record shows
that men were dying by scores from zymotic disease, as diphtheria, typhoid
fever and the like. Men fled from the regiment by scores, and of the
thirty-five men who enlisted from Schenectady, sixteen deserted. The roll of
honor of those who served through or died in service we give as follows:

---

1890 -Sacramento County, California
Source: Sacramento County 1890 Great Register

JOYNT, William age 30 b. in California (abt 1860- son of Robert?) living in District D4 P15th precinct

---
The Quarterly Indian Army List for January 1, 1912 by Army Head-Quarters,
India, 1 January 1912, printed by Superintendent Government Printing, India,
Calcutta, 1912.
Indian Army Quarterly List for 1 January 1912

Surname: Joynt
Given Name: Christopher
Rank: Surgn.-Genl.
Corps: Bo.
Date of Rank: 25 Apl. 86
Date of Retirement: 25 Apl. 86
Page #: 691

---
09/25/1917-Belgium
JOYNT, Lt. Gerald Victor Woolcott
Killed in action, 25 Sep 1917 Unit 57th Bn Australian Inf
Grave: Belgium 19 The Hitts (or Huts) Cemetery, Dickebusch, Belgium
Enlisted Croydon, Victoria
---
1918 Lee Co., Ilinois Military Registration
JOYNT, Fred C. Dixon #445 (probably Frederick Christopher, son of William Bateman Joynt-see Descendant trees)
---
From 1917-1918 civilian draft registration card:
JOYNT, William Edwin (Jr.) b.10 Oct 1891 ;W Roseland NE ; Garfield NE
---
WWI-
JOYNT, J.D.
History of 101st Machine Gun Battalion [CT]
---
WWI-
JOYNT, Lt William Donovan Joynt, Australian Victoria Cross Winner
8th Australian Inf Bn 23 Aug 1918
On 23 Aug 1918 at Herleville Wood, near Chuignes, Peronne, France, Lt. Joynt took cahrge when his company commander had been killed. When the leading battalion had been demoralized by heavy casualties, he rushed forward and reorganized the remnants of the battalion. Having discovered that heavy fire on the flanks was causing delay and casualties, he led a frontal bayonet attack on the wood, thus saving a critical situation. Later, at Plateau Wood, after severe hand -to-hand fighting, he turned a stubborn defence into an abject surrender. He was subsequently badly wounded by a shell.
---
Oneida County, New York Servicemen, 1917-1919
From Ancestry.com
JOYNT, Harold Pvt SATC Utica
---
JOYNT, Virgil Raymond died at naval hospital, Great Lakes, IL Oct 9, 1918 of influenza. Next of kin was mother, Sarah C Joynt of Decatur,IL. Apprentice seaman U.S.Naval ReserveForce
---
Allegheny County, Pennsylvania, in the war for the suppression of the
rebellion, 1861-1865 : roll of honor, defenders of the flag, attack on Fort
Sumter, S.C., April 12, 1861, surrender at Appomattox, Va., April 9, 1865 /
published by authority of the Board of Managers, Soldiers and Sailors
Memorial Hall ; compiled and arranged by and under the direction of Samuel
M. Evans.
Imprint: Pittsburgh, Pa. : [s.n.], 1924.

Corporal James Joynt, co. K, 61st Infantry

American Civil War Soldiers
Name State Served Enlist Date Enlist Rank Enlist Age Enlist Place Army
James Joyant Pennsylvania 10 March 1865 Corpl Union

---
Official Roster of Ohio Soldiers, Sailors and Marines in the World War,
1917-1918, Volumes I-XXIII. Columbus, OH: F. J. Heer Printing Co., 1926.

Name: George H. Joynt
Serial Number: 176006
Race: W
Residence: Mingo Junction, O.
Enlistment Division: Enlisted Reserve Corps
Enlistment Location: Pittsburgh, Pa.
Enlistment Date: 07 May 1917
Birth Place: Rouseville, Pa.
Birth Date / Age: 22 6/12 Years
Assigns Comment: Co E 21 Engineers to Discharge Private, first class 1 Jan
1918. St Mihiel; Meuse-Argonne. American Expeditionary Forces 26 Dec 1917 to
9 June 1919. Honorable discharge 17 June 1919.
Volume #: 9
Name: John A. McJoynt
Serial Number: 2520731
Race: W
Residence: 2700 Park Ave., Cincinnati, O.
Enlistment Division: National Army
Enlistment Location: Fort Thomas, Ky.
Enlistment Date: 31 Oct 1917
Birth Place: Ironton, O.
Birth Date / Age: 24 10/12 Years
Assigns Comment: Orders Detachment Washington DC to 25 July 1918; Ordnance Department Cincinnati O to Discharge Battalian Sergeant Major 21 Jan 1918; Private 4 Feb 1918; Sergeant, first class 16 Feb 1918. Honorable discharge 31 Jan 1919.
Volume #: 11

Name: Thomas L. McJoynt
Serial Number: 2nd Lieutenant
Race: W
Residence: 2700 Park Ave., Cincinnati, O.
Enlistment Division: National Army LB 2
Enlistment Location: Cincinnati, O.
Enlistment Date: 30 Jun 1918
Birth Place: Ironton, O.
Birth Date / Age: 31 July 1888
Assigns Comment: Coast Artillery Corps to Discharge Private Honorable discharge 24 Sept 1918 to accept Commission 2 Lieutenant Coast Artillery Corps 25 Sept 1918 from United States Army 32 Regiment Coast Artillery Corps to Discharge Cp Eustis Va; Fort Hamilton NY. Honorable discharge 19 Dec 1918.
Volume #: 11

Name: Arthur W. Joyant
Serial Number: 1943406
Race: W
Residence: 28 Cedar St., Niles, O.
Enlistment Division: National Army
Enlistment Location: Niles, O.
Enlistment Date: 21 Sep 1917
Birth Place: Scranton, Pa.
Birth Date / Age: 27 3/12 Years
Assigns Comment: Headquarters 331 Infantry to 20 Dec 1918; Rents
Requisitions & Claims to 21 Apr 1919; Casual Co 2 320 Infantry to Discharge
Corporal 6 Apr 1918; Sergeant 26 Nov 1919. American Expeditionary Forces 5
June 1918 to 5 June 1919. Honorable discharge 17 June 1919.
Volume #: 9


---
The Military Annals of Tennessee Confederate. First Series: Embracing a
Review of Military Operations with Regimental Histories and Memorial Rolls.
Regimental Histories and Memorial Rolls.
Tenth Tennessee Infantry

Co. H was organized at Nashville: Captain, Randall W. McGavock, elected
Lieutenant-colonel, and succeeded by Lieutenant William Ford; First
Lieutenant, William Ford; Second Lieutenant, Robert JOYNT; Brevet Second
Lieutenant, James Finucane.

---
WILLIAM JOHN JOYNT
Private
6/1892
N.Z. Medical Corps
who died on
Sunday, 14th October 1917. Age 22.
Additional Information: Son of John William and Harriett Joynt, of
Cambridge, New Zealand.


Commemorative Information
Cemetery: LIJSSENTHOEK MILITARY CEMETERY, Poperinge, West-Vlaanderen,
Belgium
Grave Reference/
Panel Number: XXI. C. 13.

Location: Lijssenthoek Military Cemetery is located 11.5 kilometres west of
Ieper town centre, on the Boescheepseweg, a road leading from the N308
connecting Ieper to Poperinge. From Ieper town centre the Poperingseweg
(N308) is reached via Elverdingsestraat, then over two small roundabouts in
the J. Capronstraat. The Poperingseweg is a continuation of the J.
Capronstraat and begins after a prominent railway level crossing. On
reaching Poperinge, the N308 joins the left hand turning onto the R33,
Poperinge ring road. The R33 ring continues to the left hand junction with
the N38 Frans- Vlaanderenweg. 800 metres along the N38 lies the left hand
turning onto Lenestraat. The next immediate right hand turning leads onto
Boescheepseweg. The cemetery itself is located 1.5 kilometres along
Boescheepseweg on the right hand side of the road. From Calais, take the
motorway A16 signposted Dunkerque/Lille. At Dunkerque take the motorway
signposted Lille/Ypres, the A25. Leave the motorway at Junction 13, the
village of Steenvoorde. Follow the D948/N38 signposted Ieper/Poperinge.
After approximately 8-10 kilometres Lijssenthoek Military Cemetery will be
signposted off to the right. Please Note: Ypres/ Ieper are the same place:
Ypres (French spelling), Ieper (Flemish spelling) Commission signposts are
green and white


Historical Information: The Hazebrouck-Poperinghe railway line and the
Poperinghe-Ypres road formed the main communication between the bases and
the Flemish battlefields, and Lijssenthoek, lying close behind the extreme
range of enemy shell-fire, was a natural position for clearing hospitals. It
was first used by the French 15th Hopital D'Evacuation. In June, 1915, it
began to be used by British Casualty Clearing Stations; and between that
month and the Armistice it became the second greatest British War Cemetery.
>From April to August, 1918, the Casualty Clearing Stations fell back before
the German advance, and Field Ambulances (including a French Ambulance) took
their places; and the French graves in Plots XXVI, XXVII, and XXXI recalled
the French regiments that were sent to Flanders at that time. Twenty-four
British graves in Plot XXXI were brought from isolated positions near
Poperinghe after the Armistice. There are now nearly 10,000, 1914-18 war
casualties commemorated in this site.


---
FREDERICK JOINT
Chief Stoker
276316
H.M.S. "Cornwall.", Royal Navy
who died on
Tuesday, 30th March 1915. Age 40.
Additional Information: Son of Henry and Elizabeth Joint, of South Brent,
Devon; husband of Emma Jane Joint, of Blackawton, Totnes, Devon.


Commemorative Information
Memorial: PLYMOUTH NAVAL MEMORIAL, Devon, United Kingdom
Grave Reference/
Panel Number: 6.

Location: The Memorial is situated centrally on The Hoe which overlooks
directly towards Plymouth Sound. It is accessible at all times.


---
2/Lieut. Frank Joynt Milligan.

Royal Flying Corps. Died of wounds 13th. March 1918, No further information
available. - . St. Marys ,

Church of Ireland , Donnybrook

WAR MEMORIALS - SANDYMOUNT, IRISHTOWN, DONNYBROOK - 1914-1918 & 1939 - 1945
by Patrick Hugh Lynch & Patrick Hogarty
http://dublincity.local.ie/content/26054.shtml/history/social_history


---
Sgt. Joseph Henry Joynt
He was Killed In Action during WW1 with the Canadians on October 1, 1918.
See link above for photo, family history, obituary.
Submitted by Kevin Joynt
---

2/Lieutenant Albert W. Lane-Joynt
He was Killed In
Action on February 26, 1916.
On his headstone in France it is written:
Heaven is by the young invaded
Their laughter is in the house of God.
Submitted by: Kevin Joynt
---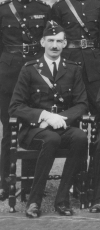 Major P.R. Lane Joynt
while serving with the South Lancaster Regiment, British Army during the
Second World War. Later, he commanded one of the Battalions of the Royal
Scots and was awarded the D.S.O. of gallantry.
Submitted by: Kevin Joynt
---
World War II and Korean Conflict Veterans Interred Overseas
Status U.S. Awards Foreign Awards
Joynt, Raymond E Illinois Sergeant United States Marine Corps Jul 26 1944 Honolulu, Hawaii, United States Buried Purple Heart Medal Silver Star Medal

---