Grandfather, Arthur Kurth (1894-1964). He was a life long Davenport resident. He is in the individual photo on the left and is at the left in the group photo (the group photo was actually a post card). The other two men in the group photo are not identified. Arthur Kurth enlisted in the army on July 25, 1918 and was sent to Camp Pike, Little Rock, Arkansas, for training. Both photos were taken at Camp Pike.
Submitted by Paul Frost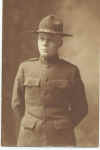 This is John D. Frost (1896-1987) who at the time he enlisted would have been a Davenport resident. The caption on the back (in John D. Frost's handwriting) says the picture was "taken in November 1918 soon after being discharged from the officer training school at Camp Grant, Rockford, Ill."
Submitted by Paul Frost

William Petersen 1895-1939
Sergeant Bakery Co. 387 O.M. Corps (2135285)
Grandfather of my husband, John Henry Labath, Jr.

Submitted by Cathy Labath

William Petersen (left)
& Unknown Soldier.
Written on back by Bill Petersen -"This is a wop friend of mine."

Submitted by Cathy Labath
Enlistment & Discharge Papers for William Petersen
Enlisted Dec 12, 1917 at Camp Dodge, Iowa
Honorable Discharge Nov. 21, 1918 Camp Wheeler, Georgia.
Submitted by Cathy Labath


Leo Westendorf
1895-?
Son of Bernard "Ben" & Mary Kaiser Westendorf
Private Leo Westendorf, son of Mr and Mrs. Ben Westendorf, 1887 Liberty street, is now with Co. C, 19th U.S. Engineers in France. He left the States on March 27 and arrived in France April 8. Before enlisting Private Westendorf was employed as a machinist with the Rock Island road at Silvis. In a message to his parents he says all is well on the other side and that the Germans are sure to be "licked."
Leo was the first cousin twice removed of my husband.
Submitted by Cathy Labath