Coleman

Pioneer Days on the Upper River
Walter Blair
Davenport Democrat 1936

"J. H. S. Coleman and his brother Egbert, had each a tenth interest in the great Homestake mine at Deadwood, S. D. and each got about $40,000 for his share. Egbert put his money back in the ground in various places looking in vain for another Homestake.

J. H. S. or "Sullivan" as we knew him, brought his money back home and with his older brother, James and Andrew, contracted for a new boat, 140 by 28 feet, at St. Louis . They then bought the engines, shaft and all other usable parts of the "James Means" and placed them on their new boat which came up in the spring as the " Golden Gate ".

Davenport Democrat
Veteran river
Worker , Dies

Hugh (Hughie) Mullins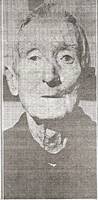 Hugh Mullins
Hugh "Hughie Mullin, (above), 84, pioneer resident of Davenport and one of the oldest riverman in this community, died at Mercy Hospital at 12:15 p.m. Wednesday after a short illness. He was born March 7, 1851, in Davenport and lived his entire life here. He was a member of St. Anthony's church.
Surviving are two nieces, Mrs. F. Scannell, Davenport, and Mrs. S. J. Schmidt, Detroit, Mich., two half brothers, J. W. Swindell and R. E. Swindell, both of Davenport. The body was taken to the Runge Mortuary where funeral services will be held at 8:30 a.m. Saturday and at 9 at St. Anthony's church with burial in St. Marguerit's cemetery. The rosary will be recited by Rev. H. J. Toher at 8 p.m. Friday at the mortuary.
Lovett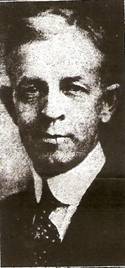 A.H. Lovett
Pioneer Days on the Upper River
Walter Blair
Davenport Democrat 1936
"The Verne Swain ran in 1898 in charge of Capt. A. H. Lovett of Davenport , and in 1899 and 1900 Frank Black who had been her clerk, became master."
Saturday Morning Democrat
Jan 2, 1954
Page 6
Pt 1
RITES TODAY FOR CAPT., LOVETT, LONG A PILOT ON RIVER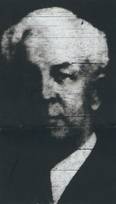 A. H. Lovett
Services will be held at 3 this afternoon in the Hill and Fredricks chapel for Capt. A. H. "Bert" Lovett. 78 of 1230 Arlington Avenue , Davenport , who died at 6:24 a. m. Friday. He had been hospitalized several months. He had been a Mississippi river man many years.
The Rev. F. G. Codd will officiate at the rites, and burial will be in Oakdale cemetery.
Capt. Lovett was born Dec. 2, 1875, in Lorraine, N. Y., the son of the Rev. Eldon H. Lovett and Martha MacGlaughlin Lovett, and came to Davenport with his parents in 1892 when his father served as minister of Calvary Baptist church. He attended Davenport High school , Pillsbury Academy , Owatonna , Minn. And Colgate academy, Hamilton N. Y.
Capt. Lovett learned the river under Capt. Walter A. Blair of Davenport starting in 1892 on the "Silver Crescent" and the "Helen Blair" After working aboard steamers of the Diamond Jo Lines including the "Pittsburg" and ------(unreadable)
Pilots license. It was then Captain Lovett received his master's license at the age of 23, the youngest pilot on the inland waterways at the time.
Later, Capt Lovett worked on the Streckfus steamers. He was renowned for his gift of letting exciting and humorous yarns of the river and of early Davenport personalities and events.
In 1902, he became associated with the Rock Island railroad as secretary to passenger agent L. M. Allen in Chicago , and returned to Davenport as city ticket agent in 1906. He later became passenger and freight agent.
In later years he was master and pilot of the steamers of the U. S. Engineer's corps of the Rock Island District and in 1929 he worked on the fleet of steamers of the Federal Barge Line. In December, 1943 Capt. Lovett retired but continued to do "trip work" for a number of lines.
He was a member of Masonic lodge No 37 A. F. & M. and was a life member of the Calvary Baptist church, where he was soloist for a number of years.
His marriage to Myrtla Buck took place April 18, 1905, in Peoria , Ill.
Survivors include his son, Robert E. Lovett, East Moline ; a daughter, Helen Lovett Cooper, Davenport ; a sister, Helen Lovett Marker. Ann Archer, Mich. And five grandsons, James, Tom and Brian Lovett, David Lovett Cooper, Jr. and Robert McBride Cooper Jr. He was preceded in death by his wife in 1950 and by his brother, William P. Lovett, and by a sister.
Sue Rekkas
Quinlan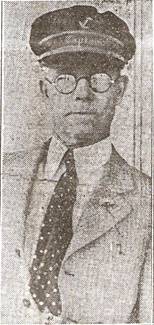 Capt. William Quinlan
Davenport Democrat
1930
Boyhood Dream of Captian Quinlan
Realized When he
Bought the Davenport Ferry
Forty years ago a keen, blue-eyed, bare foot boy of slender build sat on the banks of the Mississippi at his father's farm watching the Davenport ferry boat wend its way lazily across the Father of Waters. The lad was then 7 years old.
As he sat fascinated with the sight, in his boyish mind there came the desire to some day be the sole owner of that ferry. How he later succeeded in realizing his life's ambition sounds like one of Horatio Alger's novels, yet it is the life story of Captain William "Bill" Quinlan, today the owner and operator of the Davenport ferry Company.
"Bill" is a small, smiling man, a pleasant conversationalist and quick to make friends. The pride he takes in his boat is unusual, it is his castle, the idol of his dreams and last but not least, an excellent meal ticket.
However, all has not been a bed of roses for the captain of one of the niftiest and strongest steamers of its size.
In his early days he worked on the farm, on barges, in warehouses, and tried his hand at anything that came his way, but with the uppermost thought and desire, cherished close to his heart and resulting from his boyhood dreams of owning the boat. This was his ideal. This was the ultimate end of his labors.
Strikes out
Finally he accumulated enough money to buy a strip of land near the oil fields of Eldorado , Ark. After years of meager living he awoke to find himself rich, they had struck oil on his land.
The thought uppermost in his mind was to sell out and buy the boat of his dreams. This he did, selling his land at a considerable profit, and caught the next train for Davenport where he purchased for $35,000 the Davenport Ferry company, then controlled by the Henderson's and at that time, six summers ago, a losing proposition.
He had never operated a boat, didn't know the first thing about running a company of this kind. All he had was a fervent desire to own it and this he did.
Told he Was Crazy
"You're crazy, Bill," his friends told him. "Why that thing ahs been in the 'red' for years. You'll never make a go of it." However, the boat was bought despite the admonitions and free counsel of his friends.
"Maybe I was crazy," Mr. Quinlan said to a Democrat reporter "I was almost convinced of it before I had owned the ferry two years. During that time I lost $40,000." He said smiling .
Makes 144 trips
The ferry crosses the river 144 times a day, operating from 6 a. m. until midnight. It is five eighths of a mile wide where the boat crosses and therefore it travels 90 miles a day, making a round trip every 15 minutes.
From three to four tons of coal are used a day to fire the boilers and a crew of then men is employed, including two pilots, Before Mr. Quinlan began operating the vessel the coal consumption was 12 tons a day.
The average number of passengers for each day, eight months out of the year, is 7,000 persons. In the year 1929 the boat carried more than a million passengers and Mr. Quinlan expects the total to exceed 1,250,000 for 1930.
gmc
Lemuel Parkhurst
Davenport Democrat
Dec. 13, 1903
Pg 14
Lemuel Parkhurst's career was notable
Took an Official part in first Legislature
Served also as Assistant Clerk of House at First Session Held at Iowa City Faithful Official in City and County Affairs-Thirty Years on the River
"In the death of Lemuel Parkhurst announcement of which was made in Fridays evening's Democrat, one of the remarkable characters of this section has passed away. He was one of the pioneers in the early settlement of this county and in the various fields of work with which he was identified he faithfully and efficiently performed the duties that were his."
Clerked on Noted Boats
" After taking up his residence at Le Claire Mr. Parkhurst went to clerking on the river and some of the noted boats on which he served as first clerk during the score and a half of years he was steam boating, was the Royal Arch, the Golden Era and the Grey Eagle. These were among the finest boats that plied the great river during that long period, though there were many others of the same magnificent type and on which he served. Often times his trips took him from St. Paul to Pittsburg. It was a common thing in those days of stupendous river traffic for a vessel to clear all the way from $10,000 to $20,000 on a trip. That Mr. Parkhurst was one of the most efficient steamboat clerks that the river has known is shown in the period of service in that capacity and on many of the largest and most celebrated packets of his time."
Sue Rekkas
Davenport Democrat
Dec. 11, 1903
Pg 6
LEMUEL PARKHURST DIES WHILE READING
Old Resident Expired Suddenly This Noon.
Had a Long and Honorable Record Here in Business and Public Life
One of the best known old residents of this city, Lemuel Parkhurst, died suddenly this noon, at his home, 1919 Walnut street, this city. Mr. Parkhurst has been living at his old home with a Mr. and Mrs. Cunningham who had leased it for residence, and was found sitting lifeless in his chair at noon today, when Mrs. Cunningham went into the sitting room to call him to dinner. He had been reading his paper, and the spirit had left his body as he read, and flown without his changing his position.
Mr. Parkhurst had lived in Davenport for half a century, was successful in the conduct of a general store in East Davenport, had been county treasurer, alderman, and business man, and reached an old age in which he was enjoying a well-earned rest. Some years ago he lost an arm as a result of a fall from a stepladder which so shattered the brittle bones that nature could not carry on the usual work of repair, making it necessary to amputate the arm at the shoulder.
Three sons and a daughter survive Edward of Davenport, Alfred and Clint and Mrs. T. F. Eldridge.
The funeral will be announced later.
Researcher Sue Rekkas
* the funeral was held from the home of Mrs. Eldridge at 1340 Third avenue

gmc
Oakdale
Davenport, Iowa
Capt. Blakely
The Davenport Times Tuesday Evening
November 15, 1899
Early Packet Days
Captain Blakely Who Brought the Old Settlers Here
Days of Work and Worry
The few who remember the e4arly packet days when the Dr. Franklin and the Argo were running will remember Captain Blakely. Captain Blakely entered the Mississippi river steamboat service in 1847 and was one of the most familiar steamboat men at the Davenport levee for fifteen years. During the time he was in the service as the captain of various steamboats on the river trade Captain Blakely. It is estimated brought fully 15,000 people into the states of Iowa and Minnesota .
In the winter of 1848, Captain Blakely was one the members of the Galena and Minnesota Packet company and when in May 1849 the officers of the new territory who had been appointed by President Taylor arrived by rail at Prairie du Chien they were to enter on their new duties as officers of the territory, they boarded the good old steamer, Dr. Franklin on which Captain Blakely was clerk.
The Dr. Franklin
Captain Blakely first went into the river service in 1847, when he became clerk on the old steamer Argo. The same fall the Argo was sunk and the new steamer, Dr. Franklin, was purchased by Campbell & Smith, Henty Corwith, H. L. Douseman, Brisbois & rice, Henry H. Sibley. M. W. Lodwick and Captain Blakely. In the spring of 1848 when the navigation opened on the river Captain Blakely went on the Dr. Franklin as clerk. The Dr. Franklin was the crack steamer on the river that year, having been purchased on the Ohio to beat the War Eagle, the owned by Harris Bros.
Another Old Time Boat
After servicing on the Dr. Franklin, or the Old Doctor as the boat became known through the naming of a newer boat Dr. Franklin, No. 2, Captain Blakely became new captain in 1852. The next year he was placed in command of the Nominee a newer and better boat, and in 11855 he was made captain of the Galena . At the close of that season he left the active steamboating and was made outside manager of the packet company at Dunleith. He remained with the company until 1862 when the company went out of business.
Days of Work and Worry
The early river days were days of work and worry for the steamboat men for the only entry into the new land of promise was by was of the Mississippi river . All passengers and all freight in those days came into town by way of those steamers and of all the river captains of the territorial days non was better known in Davenport than Captain Blakely. He resides in St. Paul today, and many are the laughable and hair raising stories he can tell of early days on the river, of which he is one of the few survivors
Sue Rekkas
Capt. Henderson
HISTORY OF THE PACKET LINES AND STEAMBOATS OF THE GOOD OLD DAYS OF STEAMBOATING ON THE MISSISSIPPI
Capt. F. A. Whitney,
Centerville , Iowa
From the Saturday Evening Post
Burlington , Iowa
"The next cities to still keep the ferry are Rock Island and Davenport . Bridge or no bridge the large stern wheel steamer Davenport is constantly going from 6 a. m. until midnight with many passengers both ways. It seems like the people of Davenport work in Rock Island , and the people living in Rock Island work in Davenport .
Capt. Henderson don't care if they do, he gets their nickels going and coming."
Lamont George
Capt. W. Blair
RECALLS MANY
OF THE BOATS
"From 1875 to 1880 Davenport and Rock Island had a very satisfactory service by the Diamond Jo, followed by the Josephine, running between Fulton, Ill., and Burlington, Ia., James Osborn was agent in Davenport, George Lamont in Rock Island and W. G. Block in Muscatine.
These three men were remarkable fine agents, being friendly and attentive to patrons and very loyal and faithful in promoting the interests of the boats. The crews of the boats always held them in high esteem"
Le Claire Tony
Capt. W. Blair
RECALLS MANY
OF THE BOATS
Daily Service Between
Davenport and Keokuk
Away Back in 1855.
Popular Captains
Captain J.W. Campbell and Captain Hillhouse were prominently connected with these popular steamers and the three Ruby brothers of Buffalo, Engineers Ben Wilson, Spence Burtnett Sr., Wilbur Norris, Lew Smith, George Halkes, and Fred Kramer of Rock Island, Andrew and James Coleman and Tony Le Claire of Davenport were among the pilots employed on the boats and their successors. The engineers were "Deck" Scott and E.D. Dixon.
McCall Robert Capt.
1900 Davenport Directory
McCall, Robert B, wife Abbie C Capt. Stmr Rutledge r 2113 Ripley
Davenport Democrat and Leader
October 26, 1925
The McCall funeral
Funeral services for Robert B. McCall, pioneer Mississippi river pilot, were held from the E. A. Horrigan & Son chapel at 2:30 o'clock Sunday afternoon, with interment in Le Claire , Ia.
The Rev. F. R. McLean officiated at the chapel and members of Snow Lodge, A. F. & A. M. of Le Claire, held a short service. Several hymns were sung by a quartet, composed of Mrs. Mahlan Bailey, and the Rev. Mr. McLean. A sacred solo was also rendered by A. H. Lovett.
The burial in Le Claire cemetery was in charge of Snow Lodge. The pallbearers, all members of Trinity Lodge, A. F. & A. M., of Davenport , were T. Marshall, G. Stewart, S. Braden, S. Robin, W. Mengel and E. Retmeyer.


Robert B. McCall, Veteran Pilot on Mississippi , Dies
The Daily Times
October 21 1925
One of the final chapters of the picturesque history of the Mississippi river was concluded this morning with the death of Robert McCall, pioneer river pilot, which occurred at 8 o'clock at his home, 1226 Ripley street , Davenport , Although 78 years of age he had enjoyed robust health and death terminated an illness of but a short duration.
Mr. McCall was born in Pennsylvania on January 7, 1847, but came to this community in his early youth and soon became attracted to activities pertaining to the river, which were then almost at their height. He married Miss Abbie Carpenter Stanley at Davenport and the couple had since made their home in this community.
He was a life-long member of the United Presbyterian church and was a past master of Snow Lodge A. F. & A. M. of Le Claire. He was also a member of the Modern Woodmen of America. Besides his wife he is survived by one daughter, Mrs. Belle Jackson of McAllen , Tex. Two sons, Robert S. McCall of Los Angeles and Harold McCall of Santa Monica , Calif. Two brothers, Dave and James McCall of Davenport ; two sisters, Mrs. David Carr and Mrs. Belle Compton, also of davenport, and three grandchildren.
The body was removed to the E. A. Horrigan & Son mortuary pending arrangements for the funeral.
Davenport , Iowa
The Daily times
Feb. 25, 1918
Old River Man Answers Call
Capt. W. H. Thorwegan was friend of Captain Blair
Captain William H. Thorwegan, president of a river excursion company and one of the eldest steamboat men on the Mississippi river, died at his home at St. Louis last night, according to an associated Press dispatch received here today. Death was caused by hemorrhage of the brain.
Captain W. A. Blair of Davenport stated today that he was a friend of Captain Thorwegan since he was captain of the " Grand Republic ." He was also owner and captain of many other famous Mississippi river steamers.
"He was one of the best known river men on the Mississippi ," stated Captain Blair when informed of Captain Thorwegan's death. Captain Thorwegan was about 80 years old.
Packet Lines Davenport
Carnival Packet Co.
Capt. W. Blair
RECALLS MANY
OF THE BOATS
Daily Service Between
Davenport and Keokuk
Away Back in 1855.
On February 1892, the Carnival City Packet Co. was organized at Davenport with Capt. Lon Bryson, L.M. Fisher, F. W. Downs, Capt. August Reimers and W. A. Blair as directors. The officers of the company were W. A. Blair, president and manager; S. R. Van Sant, vice-president; M. L. Marks, treasurer, and J. B. Phillips, secretary.
Wm. Boldt, living in Davenport , retired.


HE LIVES IN DAVENPORT
HOW CAPTAIN JACK MCCAFFREY INVESTS HIS MONEY
A river man since 1837 and a Davenport property holder and taxpayer for a quarter of a century-sketch of a practical river man's career.
The Davenport Daily Times
Aug. 1, 1896
Pg. 2
Sue Rekkas / Georgeann McClure
There lives in Davenport a business man and captain whom those that know have stamped as being one of the most practical river men that ever floated a craft on the upper Mississippi river . With a fleet of four steamers upon the bosom of the great river, every remaining dollar he has is invested in the city of Davenport and to the city coffers yearly come the taxes apportioned his lot to pay. They come in no small portion , either, for the taxable property owned by his capitalist in Davenport amounts to considerable. And yet, however strange it may seem, those people exist who would like to make it appear that he is working with might and main in the interests of some other city, a common wealth in which he has no possessions and whose welfare means neither the loss or gain of a dollar nor even a pleasant smile as far as he is concerned. When consistency is lost sight of then does argument lose its name.
Captain Jack McCaffrey originated in the city of St. Louis . It can literally be said therefore that his entire life has been spent along the river which has been to him the pathway of life. He did not stay there long enough, however, to become more than one of its proverbial barefoot boys, when a change was made in his residence. He came north and Scott county became his home. It has been so ever since. Capt. McCaffrey was but a lad in the neighborhood of fourteen years of age when he settled in Le Claire and yet from that date his river career can be said to have commenced. This was in the year of 1857, ever after he has been a follower of the great river and in 1865 he was proud to tread the deck of the first boat over which he had entire command. This boat was the Union , a small sidewheeler. From then until now it is doubtful if Captain McCaffrey has ever had a fonder moment than when he realized and others realized that he and he alone was the master of the vessel.
It was in the year 1893, about the middle of the summer, that Captain McCaffrey decided to locate in Davenport , in which city his capital had been invested for many years, and into whose coffers he had for a long period annually paid taxes. He came to Davenport and purchased a home. The site is where his handsome residence stands now just above the brow of Brady street hill. The building was then known as the Ida Institute but a lavish expenditure of money and many a consultation with a well known architect soon converted it into a magnificent and ideal home. The location and proportions of his property are worth considerable, but the improvements in the building cost enough to build at least three common frame dwellings, and as the captain himself states every man who was employed in the remodeling work was at the time a resident of Davenport, and the outlay therefore, in a measure went to the city. It is to Captain McCaffrey's interests that Davenport properly improve in value, and he is hardly the person to work against his own welfare to the benefit of a city in whose interest he has naught.
When Captain McCaffrey came to Davenport in 1898 he brought with him a fleet of four boats, the Charlotte Boecker, the Helen Schulenburg, the Robert Dodds and the Duke. The two former boats were entered into the excursion trade. They were manned by residents of this city and their supplies were all purchased as far as possible in Davenport . The Boecker did not remain here long, she was disposed of in about a year and sent to southern waters, but nevertheless, during the year she was here her supply bill amounted to considerable. The Schulenberg was active since then until this summer but now her trips are mainly confined between the two cities and Manhattan beach . The Dodds is a rafter but her supplies are purchased in this city as well as the others. This spring the Mary Morton was purchased and has since been running excursions in and out of the city. On an average of eighteen to twenty men are required to man the steamer when on a trip and not one of them is paid less than one dollar a day. As they are residents of Davenport the money is practically spent in this city.
Capt. McCaffrey has lately embarked in a new business. He has entered extensively in the coal business which necessitates the employ of from forty to fifty men and keeps the steamers in constant activity. He is furnishing Davenport with coal from the Hennipin canal at a cheaper rate than was ever known in the city and to the latter direct as has been the means of a great saving. The coal contract for the city schools for twenty-five to thirty-five thousand bushels represents a saving of hundreds of dollars as his price delivered is nearly a cent a bushel under all former prices in the history of the schools. Capt. McCaffrey says he is here to stay and will continue to do all in his power to advance the interests of the city in which he has invested.