SCOTT COUNTY MEN WHO SERVED IN THE CIVIL WAR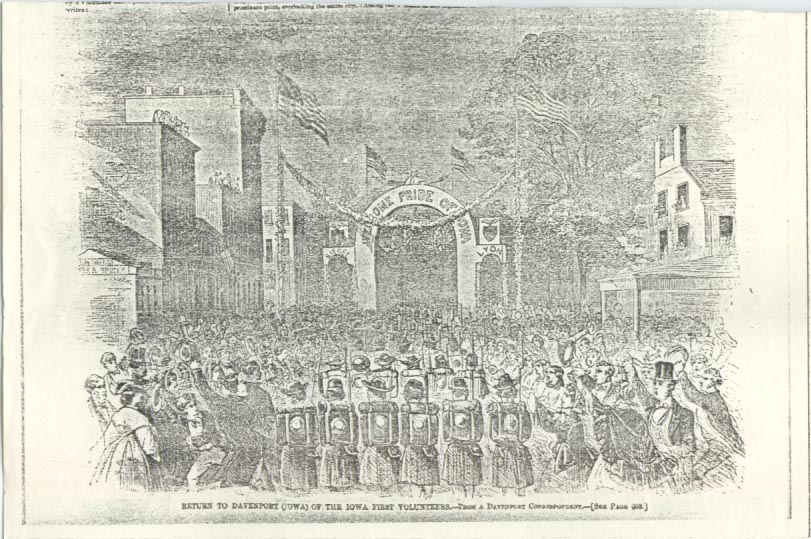 Picture above from Harper's Magazine submitted by Paul Frost
---
Notice!!! These rosters are only of Scott Co. men! I get all kinds of emails wondering why certain persons are missing from the rosters as evidenced below. I do not have the records of everyone in the listed regiments. These lists came from "From History of Scott County, Iowa 1882 Chicago: Interstate Publishing Co."
---
---
---
Miscellaneous Documents
---
---
Civil War Queries,Comments or Researchers
I have received a lot of mail inquiring about civil war ancestors. I have posted them here in the hopes that someone can answer them. Please note that I have posted ONLY SCOTT COUNTY MEN in my rosters. If you would like to have your ancestor posted please send me his name and where he lived when he enlisted and I will add to lists with residence in parentheses after the name.
---
Steve Schultz Posted 01/11/98

I am trying to locate my Great Grand father . His name was Louis R Wolfe and he was born 4/22 / 1825 and died 1903 . The information I have said that he was a captain in the Sixth Cavalry . I don't see him on your list . Do you have any ideas on where else I should look ? He moved to Iowa from Ohio in 1854 . He served as Senator of Iowa for two terms and I have no further information . Do you know where I can get further information on his terms as Senator ?
---
Julie Beenblossom Posted 01/11/98

Have been looking for information on the 7th Iowa Cavalry. My great grandfather Samuel Jones enlisted at Davenport, Iowa on July 13, 1863 and served for a period of 3 years. Do you have any information on this group? He mustered at Ft. Leavenworth Kansas. Fort Riley, Kans. dated 8/64 He was an Iowa Volunteer in Co. H, 7th Reg't Iowa Cavalry.

Was this group part of Custerr's men?

My nephew told me recently that someone told him one of our relatives had thought to be missing and turned up on Capt. Renoux's list of men. Do you know where I could find this list?
---
Don Davis Posted 01/11/98

I have been researching an ancestor of mine, one Henry H. DAVIS. Henry served with the 8th Iowa Cavalry, CO F. Henry was from Appanoose Co., Iowa, and enlisted on June 28, 1863, and Mustered in on Sept. 30, 1863 in Davenport, Iowa. As you know this is the Muster date for the 8th Iowa Cavalry. I would appreciated seeing Henry H. DAVIS given the credit due him for his sacrifice and selfish act of enlisting for his Country.

Don Davis
226 Gara
Ottumwa, IA.
---
Sharron Freeman Posted 01/11/98

I am sending you some information I have on my great grandfather and his 3 brothers. The first person I list will be my great grandfather. Maybe this information will be of some use to you or someone.

William D. Ashford enlisted in Co. C - 11th Iowa Infantry, September, 1861, for 3 years and re-enlisted at Vicksburg, Mississippi for 3 years more. During the time he was in the war he was wounded twice, and mustered out with Sherman's army at Louisville, Kentucky, June, 1865. reference: A hand written piece of paper found in a bible.

William D. Ashford (Veteran) Age 21. Residence Columbus City, nativity Indiana. Enlisted September 23, 1861 at the age of 21, and mustered October 3, 1861, as seventh corporal. Promoted sixth corporal, December, 1861; fifth corporal, January 1, 1862; fourth corporal, January 13, 1862. He re-enlisted and re-mustered January 4, 1864 at Vicksburg, Mississippi. He was discharged for disability June 26, 1865 at Louisville, Kentucky with Sherman's Army.

Aaron M. Ashford. Age 18. Residence Columbus City, nativity Indiana. Enlisted August 22, 1862. Mustered August, 1862. Wounded and taken prisoner July 22, 1864, near Atlanta, Georgia. Died September 20, 1864, Andersonville, Georgia. Buried in National Cemetery, Andersonville, Georgia. Grave 9492.

Jacob M. Ashford, Age 18. Residence Louisa County, nativity Indiana. Enlisted February 16, 1864. Mustered March 4, 1864. Mustered out July 15, 1865, Louisville, Kentucky.

Perseus E. Ashford. Age 18. Residence Columbus City, nativity Indiana. Enlisted August 31, 1862. Mustered August 31, 1862. Wounded slightly July 22, 1864 near Atlanta, Georgia. Mustered out June 2, 1865, Washington D.C.

reference for the last 4 entries: Roster Iowa Volunteers Volume II, found at the Kansas Historical Society Library, Topeka, Kansas.

If I can be of any other help just let me know.
---
R.A. Faught Posted 01/11/98

My great-great grandfather was William Fields of the 3d Iowa. I don't not know his rank or any particulars of his service other than he reportedly lost his thumb from wounds taken. He died in his bed at age 81 in Mills County, Iowa. Other vets from the 3d Iowa Cavalry served as pall bearers at his funeral. Any information or direction for further research will be enormously appreciated. I am making a trip to Iowa next month to nose around and do genealogical research, but am particularly interested in anything having to do with the 3d Iowa Cavalry and its history.
---
James H. Latham VI Posted 01/11/98

I am a descendant of Private James H. Latham who served under Captain Hugh T. Holmes in Company D, Ninth Regiment.

I would like to see his name added to your pages. If necessary, I can forward you a copy of his discharge certificate. My father has the original discharge certificate and other relics from his service. I would appreciate any additional information you can provide on the 9th. James H. Latham, VI
Major, U.S. Army Reserve
---
Eric A Johnson Posted 01/23/98

I have happened upon your Civil War site listing Soldiers from Iowa First Infantry Company K - Linn County, but no men's names listed. I was told my ancestor was James Gustavius Wilson who was from Cedar Rapids, Iowa and who was in the Civil War. However, I do not know exactly what Company he was in. "K" is my guess.

I was also told in this story that James was responsible for locating the position of the Rebel force, hence the name Battle of Wilson's Creek was named.

There is more to this story. However, it is a difficult one to believe without some sort of proof that James exists. I am hoping that you have more information that you will be willing to part with. If this turns out to be true, I have an interesting story to provide to your web site as well as any other place it would be appropriate to place.

If this is true, James went on to join another regiment as a Corporal (Iowa 16 Company I). I looked at the other links for the two 16th regiments and could not find James.

Any help with any of this would be greatly appreciated.
---
Stephen A. Mitchell Posted 01/23/98

My great, great grand father served with the 2nd from the original muster in 1861 until mustering out in 1865 in Selma, Alabama.The records that we have include copies of the Company Muster-In Roll page for John B. Kelly and the Muster Roll pages. Must were signed by a S. York.

The records show that John B. Kelly was mustered in as a corperal but, being a mechanic by trade was given Extra Duty as the Regimental Wagon Maker and resigned his rank on Nov 22nd 1862 stating in a letter to Capt. Egbert that his Extra Duties did not allow the Company to "recieve the benefit of my services as Corpereal". Approved by Capt Egbert Dec. 1, 1862. The Muster Rolls showed he spent most of his time as the Regimental Wagon Maker.

I hope to see his name included in the roster as you update the compilation.

1920 Christopher Street
West Plains, Missouri 65775
Telephone (417)257-2612
---
Ned Gurnee Posted 11/22/1998
I am seeking data on John Henry Gurkee who is listed in Company B. of the 1st Iowa Infantry. I am quite sure the last name is really Gurnee.Any help would be appreciated.
---
Floyd B Benn Posted 02/25/1999
I have JOHN M. ATCHISON, Iowa 16th Infantry, Enlisted 12/22/1863 Clinton CO, IA, also Oliver C. Atchison. These are not in your roster in the Iwao Civil War list on the Iowa Gen Web????? DUBUQUE, IA.
---
Marty Graybill Posted 03/24/99
My Great Great Granfather served with the 16th Iowa Infantry Company "E", enlisted at 27 11/15/64,mustered out in Louisville Kentucky on 7/15/65. His name is Thomas Graybill b. 1837 d. 1910
-From Rosters & Records of Iowa Soldiers in the War of Rebellion-
---
Bob Arndt Posted 03/26/99
Edward Arndt served in Company G of the Sixteenth Iowa Infantry. Suspect that his wife (or mother) was "Lizzie", and his son (or brother) was William. The family was from Pommern, Prussia, and arrived at New York (from Hamburg) on 18 Dec 1854. William served in Company F,7th Regiment, Illinois Volunteer Infantry, and is my great-grandfather. Would like to find the village in which he was born. Have checked the passenger lists for New York arrivals, and intend to check LDS's Hamburg List, but hope that someone at this site can help, since William did live in Davenport before coming to Illinois
---
Joann Hopkins Posted 05/23/99
My great-grandfather served in Company C, Iowa 9th Cavalry. He was mustered in at Davenport in Nov. 1863 and mustered out in Little Rock in Feb, 1866. His name was Alvin Jennings.
---
Ruthe White Posted 07/19/99
Hi - my name is Ruthe White and I have been researching my husband's Drake roots.I had information that Francis Drake from Davenport enlisted on 22 Sept. 1864 as a private - Co. C 14th IA Infantry and was mustered out 13 May 1865 at Davenport.
---
Nancy Ross-Stallings Posted 08/25/99
I am a direct descendent of Riley Miller, who was a member of the 8th Iowa Volunteer Cavalry, Co. G. He was 18 when he joined in June of 1863 and in late July of 1864, he was captured along with others in his company when he was involved in MCCook's Raid. This raid was in the area east of Atlanta when they were getting ready to take over Atlanta. Riley wound up at Andersonville Prison and stayed there for some time. He was one of the few captured that day that survived his prison stay. I have been looking everywhere for a regimental history of this group.
---
marzim100@aol.com Posted 10/15/99
My greatgrandfather was BENJAMIN FRANKLIN WARE from Guthrie Co., IA. He was in the Iowa 1st Lt. Artillery and was discharged at Davenport. I didn't see his name on your list. I do have his Archival Records.