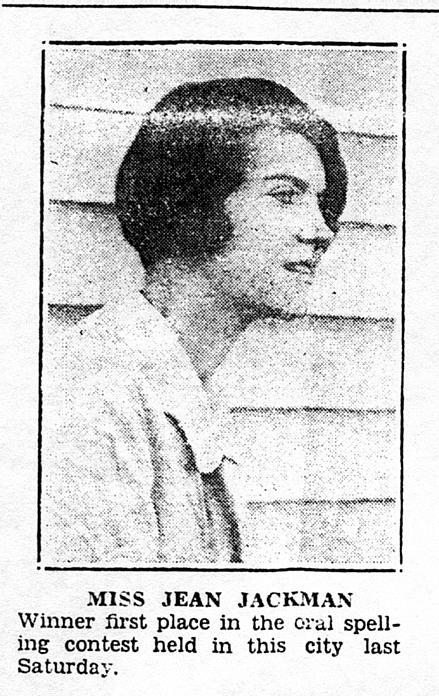 (Jean Jackman was the eldest child of Francis Jackman and Eva Murphy).
Emmetsburg Democrat, Thursday, April 16, 1931
Jean Jackman Wins In Oral Spelling Meet
Miss Joey Matthiesen of Curlew School Places First in Written. Evelyn Anderson Second in Oral and Palmer Cody in Written.
WERE 57 SPELLERS
Winners to Take Part in Interstate Contest at Omaha and Also in the Daily Register State Contest to Be Held in Des Moines.
There were 57 participants in the county spelling contest held in the Court House in this city Saturday afternooon. Lists of the spellers were given in recent issues of the Democrat.
Miss Jean Jackman, aged 13, of District 4, Walnut township, took first honors in the oral contest and Miss Joey Matthiesen of Curlew, placed first in the written division. Miss Evelyn Anderson of Fairfield townshop, District 3, took second in the oral class and Palmer Cody of Fairfield, District 3, took second in the written. The spelling continued for four hours. All of the boys and girls participating did remarkably well and went down slowly and of course reluctantly. Miss Jackman won on the word "lyceum", which her last competitor missed. Miss Oliver, the county superintendent, does not recall the word on which Miss Joey Matthiesen won. There were a large number of spectators in the courtroom. Many of the townships were well represented.
The two firsts, Miss Jean Jackman and Mis Joey Matthiesen, will go to Interstate spelling contests. We understand that Miss Jean Jackman may also enter the Des Moines Register spelling contest.
Miss Jackman is the oldest daughter of Francis Jackman of Walnut township. Her grandfather, the late P.R. Jackman, came to our county about 1856. Jean's mother, it will be remembered, died late last fall. Hence she had a great many household duties to attend to in addition to preparing her studies. She attended St. Ellen's Academy before the death of her mother, after which she entered her home district school. Miss Genevieve Higgins of Great Oak township is her present teacher. Miss Joey Matthiesen is the daughter of Mr. and Mrs. B. G. Matthiesen, who live close to Curlew. She attends the Curlew school. Cuts of Misses Jackman and Matthiesen appear in this issue of the Democrat.
The pronouncers in Saturday's contest were, Supt. Frederickson of Cylinder, Supt. Vanderstoep of Mallard, and Mrs. Bessie Baldwin of Ruthven. Misses Nellie Crowley of Emmetsburg and Cora Christopher of Graettinger were the referees and the Supt. Fritz of Curlew, Miss Mary Hastings of Ruthven and Miss Ruth Maguire of Curlew were the judges.
Submitted by: Kathleen Frailey Puls